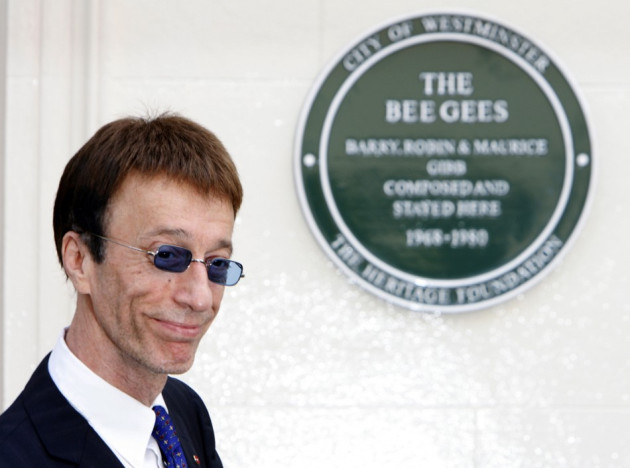 Bee Gees singer Robin Gibb has a "50/50 chance" of recovering from cancer after previously falling into a coma from contracting pneumonia, his wife Dwina has said.
Gibb, 62, emerged from the 12-day coma and his pneumonia has cleared, but he is only able to communicate by blinking his eyes because he has a tracheotomy in place.
Jim Dooley, the former lead singer of The Dooleys and a close friend of Gibb, told The Daily Telegraph: "He can't speak at the moment because he has a tracheotomy, and he has to communicate by blinking his eyes.
"Dwina has said that because he spent so long in a coma there are a lot of things he will have to learn to do again if he comes through it. He will have to re-learn how to walk.
"It's 50/50 whether he comes through this but Dwina is a wonderful woman and she is giving him all the love and TLC you can give."
Gibb's family have held a constant vigil at his bedside and have been playing his favourite songs in an attempt to revive him.
Dwina revealed that Gibb started to cry when she played him Roy Orbison's 1962 song Crying.
During one recent bout of treatment, Gibb was only given a 10 percent chance of survival during an operation on a perforated bowel.
Gibb's son, Robin-John, told ITV News: "They gave him an under 10 percent survival chance and he has beaten the odds... he really is something else."
Doctors treating Gibb have said they were "confounded" by his recovery since waking from the coma.
Gibb had surgery on his bowl 18 months ago for an unrelated condition. A tumour was later discovered and Gibb was then diagnosed with cancer of the colon and later of the liver.
It was thought his cancer was in remission as early as March. Gibb's twin brother, Maurice, died from the same bowel condition in 2003.
The Bee Gees formed in 1958 and went on to become one of the biggest selling music acts of all time, with hits including Stayin' Alive, How Deep Is Your Love and Night Fever.