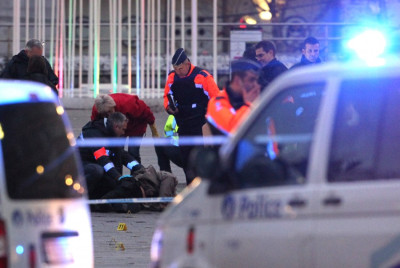 Famillies fled for their lives when Nordine Amrani, 33, went on the rampage killing two teenagers, aged 15 and 17, a 20-year-old,a 65-year-old woman and a 17-month -old and injuring 122 before killing himself in the shock attack at noon on Tuesday.
Amrani, who was known to the authorities in Liege, Belgium, as a drug trafficker with a history of drug and weapons charges, was due to appear for a routine police interview at the Palace of Justice in St Lambert Square.
Amrani had apparently shown no signs of mental instability in the lead-up to the attack and is thought to have no known links to any extreme or terrorist groups.
One witness told the BBC that the attacks caused utter chaos as people fled the explosions and bullets.
"Two seconds after the second boom I saw all of the glass breaking. I saw people running and screaming and I dived into my car," he said.
"I saw all of the people lying down and bleeding in the glass. I stopped my car to see if I could help people."
People were told to stay inside by police while pedestrians dashed off the streets.
"It was total chaos. I saw smoke and heard gunshots and a white sheet with someone dead underneath it," he added.