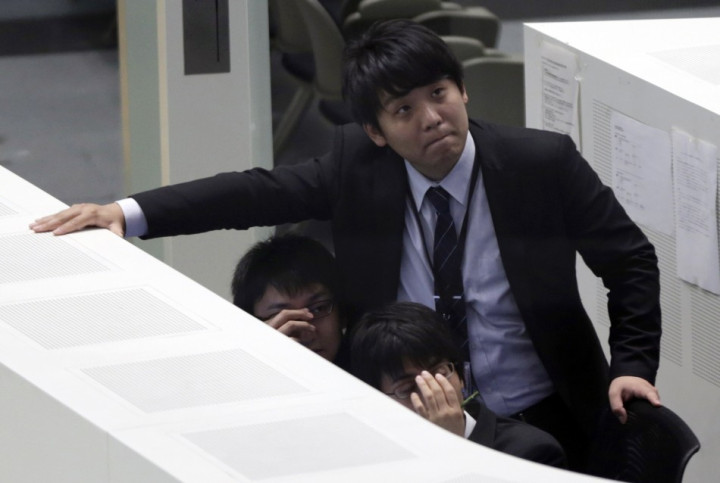 Asian stock markets were choppy on Wednesday as investors await the US Federal Reserve chief Ben Bernanke's testimony to Congress due later in the day.
The Japanese Nikkei was down 0.01% or 1.08 points to 14,598.04.
The Shanghai Composite index was down 0.35% or 7.32 points to 2,058.40 despite news that Chinese state-owned firms logged higher profits in the first half of this year.
Hong Kong's Hang Seng was trading 0.20% higher or 43.53 points to 21,355.90. Government data showed that foreign-direct-investment (FDI) flows into China rose at their fastest pace in over two years in June.
Australia's S&P/ASX index was trading flat to 4,985.80.
South Korea's Kospi was trading 1.49% higher or 27.77 points to 1,894.13 points. Producer prices fell in June but at their slowest pace since December, indicating that Asia's fourth-largest economy may be improving.
Investors expect Bernanke's testimony to provide hints as to the future pace of the Fed's $85bn (€65bn, £56bn) a month bond-buying program. Global markets had posted gains last week after Bernanke said the Fed was in no hurry to hike rates once the unemployment rate threshold of 6.5% was reached.
FDI flows into China have risen by over 20% in June, 2013. State-owned firms logged a 7% year-on-year increase in profits in the first half, picking up from the pace of 6.5% in the first five months, the Xinhua news service reported on 16 June.
In other news, Reuters reported that China's Ministry of Land and Resources expects land prices to rise further in the ongoing quarter.
On Wall Street, indices ended lower on Tuesday as investors digested Kansas City Fed President Esther George's comment that the central bank should scale back its asset buys "faster and sooner" as monthly jobs numbers are improving.
The US consumer price index rose 0.5% in June on surging gasoline prices. Industrial production inched up 0.3% last month.
Economists polled by Reuters had expected consumer inflation to increase 0.3% in June. A separate Reuters poll had predicted a 0.2% increase last month.
The Dow finished 32.41 points lower at 15,451.85. The S&P 500 ended 6.24 points lower at 1,676.26, while the Nasdaq closed 8.99 points lower at 3,598.50.
In Hong Kong, coal miner China Shenhua Energy shot up 5.6% while China Coal Energy added 4%. The world's top PC maker Lenovo gained 0.7%.
Datang International Power Generation added 1.5% after it announced that it expect profit to surge 70% to 80% in the first half of 2013 from a year ago.
In Shanghai, China Shenhua Energy gained1.6% while China Coal Energy moved up 1%
Datang International Power Generation rose 3.7%. Realty firm Gemdale and rival China Merchants Property lost over 2% each
In Sydney, surfwear maker Billabong International spiked 33% on a $294m refinancing deal. A consortium of investors led by private-equity firm Altamont Capital Partners will inject the funds into the Gold Coast-based firm to refinance its debts.
Resources major BHP Billiton gained 2.2% after it reported record high iron-ore production, alongside higher oil and gas production for the year ended 30 June.
Anglo-Australian miner Rio Tinto gained 1.7% on news that its iron-ore production touched a record high in the April to June second quarter.
Atlas Iron shot up 7% while rival Fortescue Metals added 4%
In Tokyo, machinery maker Taiyo Yuden fell 5% while rival Advantest shed 3.5%. Camera maker Canon lost 1.9% while industrial robots maker Fanuc shed 1.6%
Electronics major NEC shot up 4.8% on news that it would exit its loss-making smartphones business after failing to partner with the Lenovo Group.
In Seoul, automobile maker Kia Motors and its part owner Hyundai Motors gained 2% each.