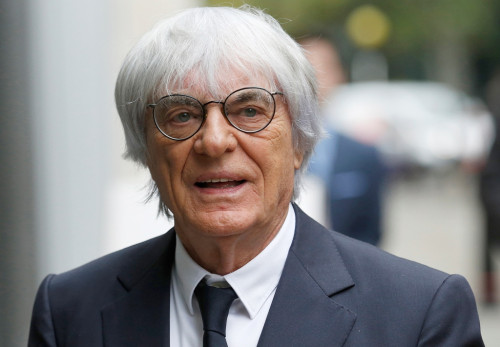 Bernie Ecclestone could lose his 40-year hold on Formula One when legal action over the sale of a stake in the motorsport concludes within weeks.
The 83-year-old billionaire awaits the outcome of a $100m damages claim brought by German media firm Constantin Medien, which alleges that Ecclestone and three other executives deliberately undervalued the company when private equity fund CVC Capital Partners bought into the business in 2005.
That decision is expected in January or February and will be followed by Ecclestone contesting another damages claim in London and a potential criminal trial in Germany.
A Munich court will decide this year whether to order the F1 boss to stand trial over the $44m he and a family trust paid to German banker Gerhard Gribkowsky to smooth the stake sale to CVC, reported Reuters.
Ecclestone, who has a personal fortune of £2bn, has always said he has no plans to retire. He has, however, said he would step aside if convicted in Germany.
CVC co-founder Donald Mackenzie told the High Court in London that his firm would sack Ecclestone if he was found guilty of wrongdoing.
Uncertainty about Ecclestone's future has made it impossible to revive delayed plans to list the business on the Singapore Stock Exchange.
One-Man Show
Ferrari president Luca di Montezemolo proposes inviting the 11 Formula 1 team heads to a meeting in Italy later in January. They are to discuss the future of the sport, as several smaller teams struggle financially.
Montezemolo has said it is time to deviate from the "one-man show" when Ecclestone exits and spread responsibility among several managers.
Richard Scudamore, chief executive of the Premier League, and Sainsbury's CEO Justin King are both tipped as potential candidates for the top job.
"We have to create a group of governance in which you have a CEO, and then you have one in charge of motor racing," Montezemolo said.
The Deal that Turned Sour
In July 2013, Ecclestone was charged with bribing BayernLB's former chief risk officer Gribkowsky to ensure the deal with CVC went through.
In 2012, Germany authorities jailed Gribkowsky for more than eight years for tax evasion and bribery.
Ecclestone does not deny paying Gribkowsky but he denies wrongdoing and said he was the victim of extortion after the German threatened to make false claims over his tax affairs.
In 2005 BayernLB sold a 47% stake to CVC for around $830m, after the collapse of Bavarian Leo Kirch's media empire.
However, Constantin Medien believes it lost out on a share of the additional proceeds had the stake fetched a higher price -- topping $1bn.