Heavy snow fell across much of Britain over the weekend, leading to travel disruptions, traffic accidents and school closures – as well as snowman building, sledging and a flurry of pretty pictures. IBTimes UK presents photos of the weekend's winter wonderland from around the country.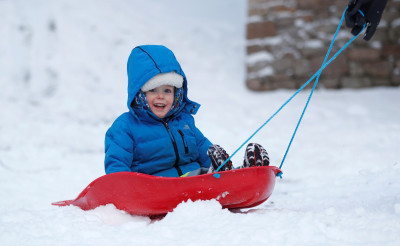 Around 28 centimetres (11 inches) of snow fell in Sennybridge, in Wales, and 12 centimetres in High Wycombe, Buckinghamshire. Snow caused travel disruptions across central England and northern Wales, grounding flights, shutting down roads and triggering traffic accidents. Birmingham, London Stansted and London Luton airports briefly suspended flights as runways were cleared.
Drivers have been warned to take care on the roads on Monday 11 December as the snow that blanketed the UK is expected to turn into ice. The Met office has issued weather warnings for ice across the UK. The cold weather has already resulted in hundreds of schools in Gloucestershire, Shropshire and parts of Wales being closed for the day, as well as the cancellation of flights and trains services.