Drivers have been told to take care while on the road as the recent snowfall that blanketed the UK is expected to turn into ice.
The Met office has issued weather warnings for ice across the UK on 11 December following a weekend which saw temperatures plummet to as low as -11C (11F) in North East England.
Forecasts have warned the sub zero temperatures will remain in some rural locations where there has been snow, with the possibility of it falling to as low as -15C in some areas - with even the cities getting below freezing.
The cold weather has already resulted in hundreds of schools in Gloucestershire, Shropshire and parts of Wales being closed for the day, as well as the cancellation of flights and trains services.
A Met Office spokesperson said: "Ice is expected to form on some surfaces Sunday night (10 December) and into Monday morning. Some injuries are possible from slips and falls on icy surfaces and there will probably be some icy patches on untreated roads and cycle paths.
"On Monday morning some snow may fall over parts of Kent, Sussex, Surrey and Hampshire. Some accumulations of 2-5 cm are possible above 100m but at lower levels no accumulations are expected, instead a mixture of rain and sleet is most likely.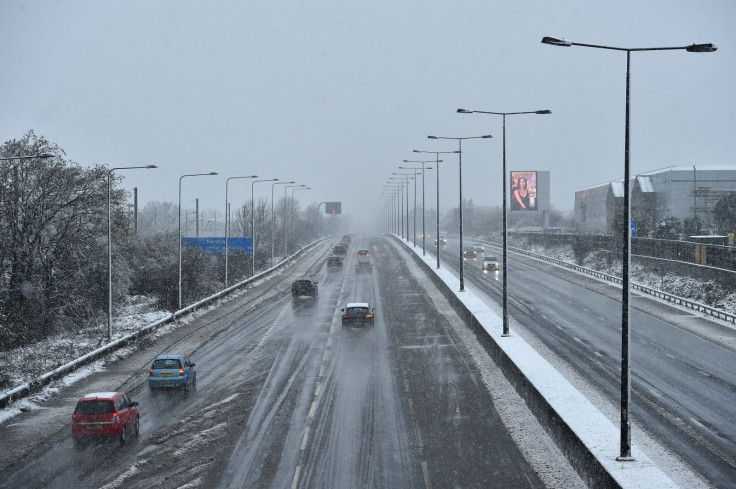 "Some roads and railways are likely to be affected with longer and more difficult journeys. As well as this lying snow from Sunday will continue to be a hazard leading to longer and potentially hazardous journeys."
The RAC's road safety spokesperson said they are expecting around 11,000 breakdowns to occur on Monday, a 20% increase on the seasonal average, and have offered tips on how to avoid any accidents while driving in the "treacherous" conditions.