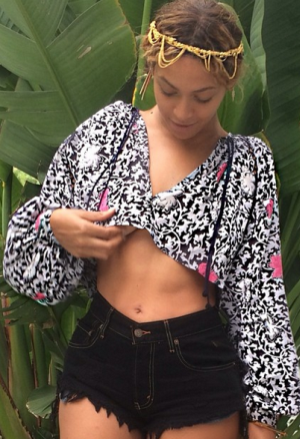 Beyoncé has been slammed as an attention seeker after showing off some underboob in a photo posted on Instagram.
In the racy snap Beyoncé can be seen flashing the flesh while posing in denim shorts and a patterned crop top.
Eagle-eyed fans got a peek of the bottom of one of the singer's breasts as she playfully adjusted the top.
Although she is not the first celebrity to jump on the sultry underboob trend, some fans insisted her behaviour was inappropriate.
"What joy do stars derive from dressing half naked?" one critic said.
Another impressed fan wrote: "All of you people calling her sexy and pretty!? Even though she flashed her dead boobs."
A third added: "Some folks are so brainwashed hypnotized and plain ignorant."
But it wasn't all bad. Other members of the Beyhive said her racy look was all part of her popstar image.
"People show more breast than that everyday in tank tops or what ever top."
Although Beyoncé has yet to respond to the backlash, she previously admitted that she had finally embraced her sexuality.
"I don't have any shame about being sexual. I'm not embarrassed about it. And I don't feel like I have to protect that side of me," she said in a mini-documentary about self-entitled album.
"Just because you become a mother it doesn't mean you lose who you are."