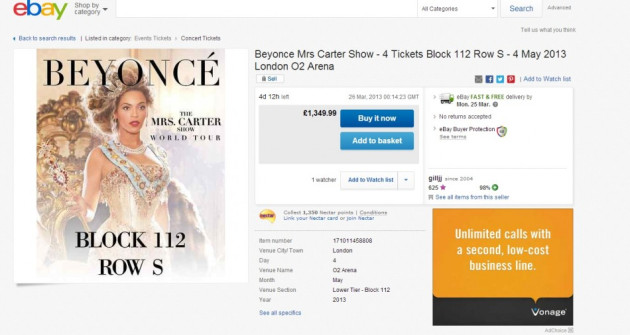 It is one of the most highly anticipated music events of the year.
So it comes as no surprise that when tickets for Beyoncé's forthcoming UK tour went on sale in February they sold out in less than 15 minutes.
Fans who had queued up for hours and even camped overnight for the chance to see the Single Ladies hitmaker when she performs three gigs in the London later this year were left disappointed and ticketless.
But those turning to websites such as eBay and Seatwave are being faced with demands to pay a hefty sum to see their heroine, with prices reported in some cases to be as high as £2,000 per ticket.
Tickets for the 11 UK dates were originally available through Ticketmaster for between £55-£85, but some touts have been commanding big money as they resell them.
Four tickets have been offered on eBay for £1,349.99 and another two were being sold for £1,098 on Seatwave.
One fan said: "The touts selling them for £500 each are just dirty suckers."
Fans have demanded stronger consumer rights to protect concert goers being ripped off by touts.
"It's time that tickets were issued with a name and address printed on them, and ID needed to use them, or linked to the card they are bought with," said one.
"Touts are causing concert going to be a very expensive business. Surely the artists must take issue with the fact that organised criminals are making more out of the performances than they are?"
The UK leg of the Mrs Carter Show World Tour starts in Birmingham on 26 April.
An eBay spokeswoman told IBTimes UK: "We believe that consumers should have the right to sell spare or unwanted tickets to popular events.
"An ICM poll commissioned by eBay showed that the majority of consumers strongly support this view, and agree that the ticket price should be determined by what someone is prepared to pay for it. In parallel, we have a clear policy on ticket sales and do not tolerate any sale of illegal tickets on our sites. "