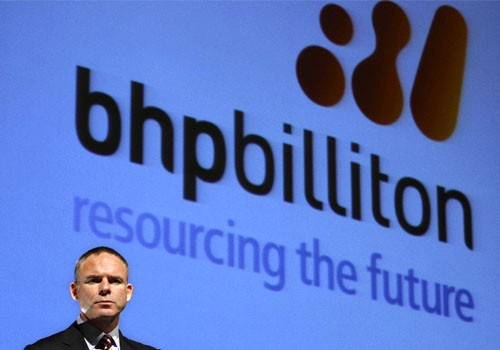 Shares in BHP Billiton were up on the FTSE 100 in morning trading after the mining giant reported a doubling of its profit in the full year ended 30 June.
The group, which is currently attempting a takeover of fertiliser producer Potash, reported a rise in revenue of 5.2 per cent to $52.8 billion in the full year period.
Attributable profit was reported as rising 116.5 per cent to $12.7 billion, while the group said it would be raising its dividend by 6.1 per cent to 87 cents per share. Excluding exceptional items attributable profit was up 16.3 per cent to $12.5 billion.
In a statement BHP Billiton, said, "BHP Billiton delivered another strong set of results despite significant volatility in the macro economic environment.
"BHP Billiton remains cautious on the short term outlook for the global economy. After a period of rapid recovery in the developing world, economies such as Brazil and India have returned to full output and the focus has now shifted away from supporting growth, towards controlling inflation. In China, the government has implemented meaningful measures aimed at controlling rapid economic expansion and asset inflation. Fiscal policy has been adjusted with renewed focus on the economy's inevitable transition away from a dependence on investment, towards more balanced, consumption led growth. With this recent policy tightening, property sales volumes and prices have started to decline in Tier 1 cities over the last quarter. While BHP Billiton sees these measures as the normal continuation of China's economic management, we do expect Chinese Gross Domestic Product (GDP) growth to slow towards the more sustainable level of circa eight per cent in the first half of fiscal year 2011.
"Uncertainty continues to surround the developed world as governments adjust fiscal policies following a period of significant stimulus and subsequent increase in sovereign debt levels. Significant public spending cuts and higher taxes have been announced in Europe, however are yet to be fully implemented, implying the inevitable negative impact on growth from fiscal consolidation remains ahead. Industrial output, a core measure of economic activity, remains well below previous peaks despite the positive impact attributable to re-stocking that now appears largely complete. In the absence of any additional inventory adjustment, improvement in end demand is essential to drive overall economic growth. Some positive signs have emerged, with strong private investment in equipment and software seen in some parts of the United States economy, although ongoing de-leveraging and weak confidence are hampering efforts to revive demand.
"Despite our short term caution, we remain positive on the longer term prospects for the global economy, driven by the continuing urbanisation and industrialisation of emerging economies. This path, however, will not be without volatility, reflecting normal business cycles."
By 08:55 shares in BHP Billiton were up 0.78 per cent on the FTSE 100 to 1,817.00 pence per share.