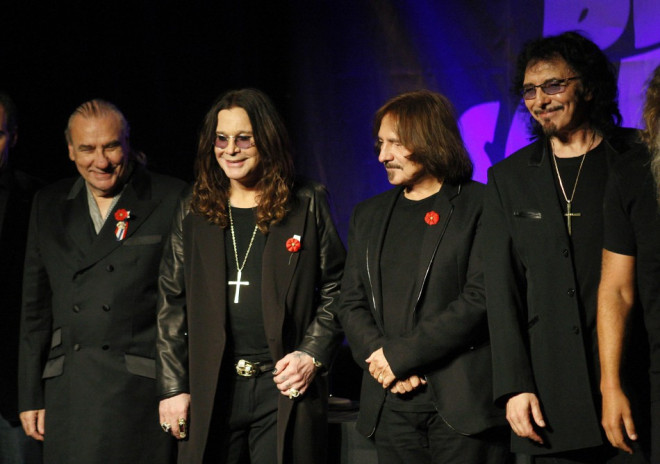 Legendary rockers Black Sabbath have announced they will headline the Hyde Park British Summer Time event in July.
Original members Ozzy Osbourne, Tony Iommi and Geezer Butler will perform at the summer event on 4 July, capping a remarkable 12 months for the band following last year's album '13' debuting at number one.
The band, whose members all grew up in Birmingham and whose hits include Paranoid, War Pigs and Iron Man, are credited by many with inventing heavy metal and were a big influence on bands including Metallica, Judas Priest and Pantera.
Singer Osbourne said: "The first time I came to London I didn't have a pot to piss in and I spent the advance I got for the first album on a new pair of shoes and some Brut aftershave.
"Returning almost 50 years on, we are doing a it better for ourselves so I may even splash out on some new aftershave before taking to the stage at Hyde Park, the most beautiful park in London that has opened its gates to so many legends in the past. We are beyond honoured to be allowed to put on a show and hope that the Royals will enjoy it!"
Black Sabbath - pioneers of metal

Black Sabbath have sold more than 70 million records worldwide

Black Sabbath have been described as the "heavy-metal kings" of the 1970s.

The four original members, Ozzy Osbourne, Toni Iommi, Geezer Butler and Bill Ward, were schoolmates from a working-class district of Birmingham.

Influenced by the blues, they first joined forces as the Polka Tulk Blues Company but changed their name to Earth and then Black Sabbath.

The name came from the title of a song written by bassist Geezer Butler, a fan of occult novelist Dennis Wheatley, but it may also have been a homage to a Boris Karloff film.

They have more than 70 million records worldwide and have been inducted into the UK Music Hall of Fame and the Rock 'n' Roll Hall of Fame and have also won two Grammy Awards for Best Metal Performance.