BlackBerry has announced two new smartphones, the Z10 and Q10, running the BlackBerry 10 operating system and it will go on sale in the UK first.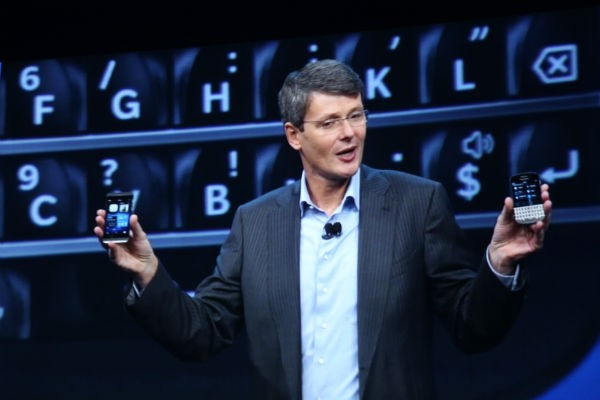 Seen by many as the last roll of the dice for RIM, BlackBerry 10 and the accompanying smartphones will go up against smartphones from Apple and those running Android.
The company also announced that it would no longer be known as Research in Motion (RIM) and from now on will be simply known as BlackBerry - a smart move by the marketing department considering very few people outside the industry know who or what RIM is.
BlackBerry's CEO Thorsten Heins, who has been in charge of BlackBerry now for almost a full year, said the company was "on a journey of transformation" and would "lead the move from mobile communications to true mobile computing."
The Z10 which is a full touchscreen device will go on sale in the UK from tomorrow, 31 January making it the first market in the world where the new phone will go on sale.
BlackBerry has secured huge support from UK networks with all major networks offering the Z10, and the phone will also run on EE's 4G network, while Rob Orr, head of UK and Ireland for BlackBerry, also confirmed it would support the other carriers' 4G when they launch later in the year.
There was no mention of a release date for the BlackBerry Q10, which retains the iconic physical QWERTY keyboard which made the BlackBerry devices so famous.
Gestures
BlackBerry 10, based on the QNX software, is a gesture-based operating system with BlackBerry Flow at its heart. Flow is where all your most important and recent apps are running live, and you can switch between them with a flick of your thumb.
The new operating system puts a lot of emphasis on multi-tasking, with the Peek function allowing you to check notifications without leaving the ap you were in previously.
BlackBerry Hub allows you to manage all your different channels (Facebook, email, messages, LinkedIn, Twitter and BBM) in one place, letting you interact with the different services from one place.
While the Q10 retains that physical keyboard, Heins described the touchscreen keyboard as "writing without typing" and it includes gestures letting you swipe words into a sentence. It will also allow you to easily switch between languages.
Enterprise
BlackBerry devices have long been seen as an enterprise tool and the company is hoping to continue this with BB10 and a feature called BlackBerry Balance. This feature will allow users to have two accounts on one phone.
It will allow IT departments to set up a work account with limited access to apps, while at the same time allow you full access to corporate email. In your personal account it is also possible to access the full catalogue of apps, though these won't be able to access your corporate email.
With the growth of BYOD, this is likely to be a key feature for BlackBerry, especially considering the security credentials BlackBerry Enterprise Server brings with it.
BBM, the hugely popular messaging service has also been updated on BB10 with video calling as well as the ability to share screens, images and documents from one phone to another.
Apps
The new platform will be launching with more apps that any first generation operating system, with more than 70,000 apps already in the BlackBerry World including big names like: Skype, WhatsApp, S AP, Angry Birds, Fruit Ninja, Facebook, Twitter, LinkedIn, FourSquare and TuneIn Radio.
"Over 1,000 of the top applications from around the world committed to BlackBerry 10," BlackBerry said during the presentation.
Just like Google Play and Apple iTunes, BlackBerry World is now the one-stop-shop where you get access to apps, games, films and music.
BlackBerry is a facing huge challenge to compete with Apple and Android whicph currently dominates the smartphone market holding a 92 percent share between them.
RIM at one stage held 20 percent of the smartphone market as recently as 2008, however the growth of Apple and Android, along with a number of missteps along the way by what until now was known as RIM.
Customers
Heins said BlackBerry is building BlackBerry 10 with a specific set of customers in mind: "Hyper connected socially, getting things done, people who want balance in personal and professional."
Heins revealed that two years ago BlackBerry had to take "a very serious decision", to either choose another platform for its hardware or "build one of our own up from the ground."
It remains to be seen if BlackBerry 10 will turn the company's fortunes around but with a large app catalogue from launch as well as big enterprise credentials, BlackBerry could soon be challenging Windows Phone as the third big player in the smartphone world.