Key Features:
2.4in screen
3.2-megapixel camera
BlackBerry OS 7.1 with Wi-Fi hotspot
Facebook, Twitter and more pre-installed
Price as reviewed: From £10.50 a month or £159.95 SIM-free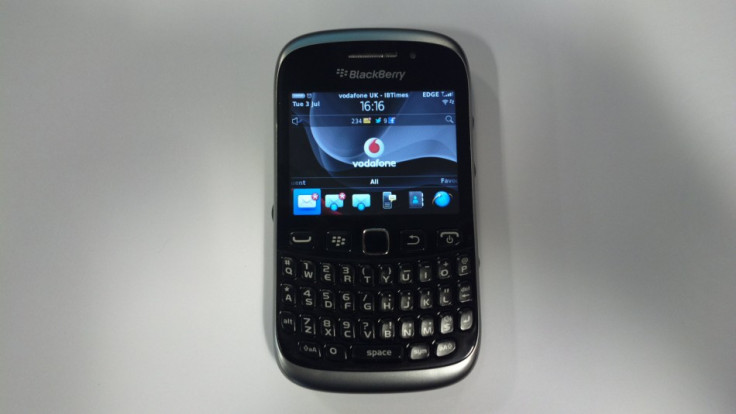 Introduction
Away from the yearly radical upgrades higher up the smartphone food chain, BlackBerry and its Canadian manufacturer Research in Motion have opted for gradual change, and the newest Curve 9320 is no different.
With just a few visual changes over its 9300 predecessor, the newer model gets a set of physical menu buttons instead of touch sensitive ones and the rear cover is now glossy and houses an LED flash alongside the 3.2-megapixel camera.
In a market dominated by ever-growing touch screen smartphones with quad-core processors, gigabytes of RAM and a pricetag to match, the Curve 9320 brings all the smartphone basics like internet browsing and social networking, but with a bargain basement price starting at around £10 per month.
BlackBerry Curve 9320: Design and Feel
Taking much inspiration from its Curve predecessors, the 9320 is undeniably the baby of the BlackBerry family, measuring in at 109 x 60 x 12.7mm and weighing 103g.
We would have liked the Curve to be a little less than 12.7mm in thickness - indeed, it's thicker than some much larger and powerful smartphones - but its narrow width makes the phone easily pocketable and its fits snugly in the hand, making one-thumb typing possible.
The physical keyboard looks and feels too small to begin with, but after an afternoon of typing and setting up social network accounts we grew accustomed to the diminutive keys and learnt to trust our inputs.
We felt that the Alt key is a little too close to the rest of the keyboard, making inputs like Alt+A for typing an asterisk to be difficult at first.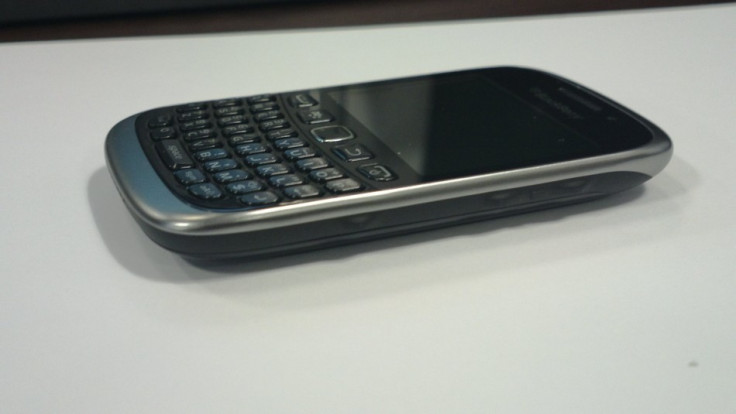 Despite the glossy back, the BlackBerry Curve 9320 fits securely in your hands, thanks to the rubber bezel around the edge of the phone.
The Curve 9320 is constructed from plastic - which is hardly surprising for a phone at this price - but it feels solid and well built. The glossy black plastic does attract lots of fingerprints, however, and we wouldn't be too surprised if small scratches started to show if your Curve shares a pocket with keys and coins.
As usual, there is a central navigation button for scrolling by touch and selecting by pushing, and up top there is the standard notification light to alert you of missed calls, unread messages and low battery life.
On the top edge there is a lock button and 3.5mm headphone jack - a pair of earphones are included in the box - while there's a shortcut to the camera app on the right, which also acts as the shutter release, and there's a shortcut to BlackBerry Messenger (BBM) on the left edge. Both the camera and BBM shortcuts keys can be assigned to different tasks, if you prefer.
That glossy plastic rear case slides off to reveal the battery and microSD card slot, while the SIM card is found under the battery, so you'll have to turn the phone off to get access to it.
Finally, above the rear case is a 3.2-megapixel camera with video recording and image stabilisation on the left and an LED flash on the right.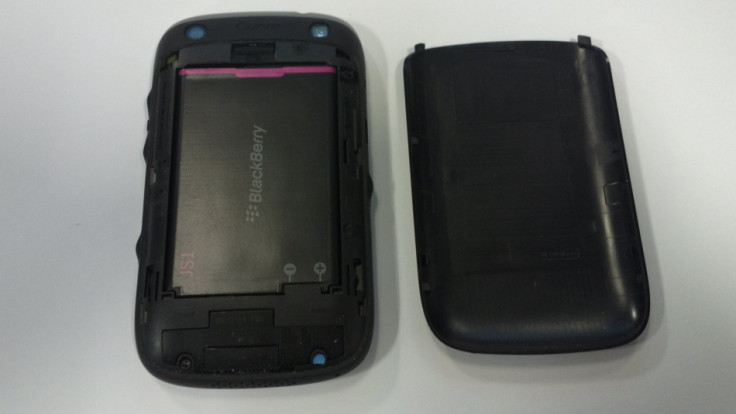 BlackBerry Curve 9320: Hardware and Connectivity
Powered by an 800MHz processor and 512MB of RAM, the Curve 9320 has a 2.4in screen with a resolution of 320 x 240 and a pixel density of 164 pixles per inch, and while tiny compared to other smartphones, the sacrifice in screen size in favour of a physical keyboard is one which some users are happy to make.
A screen of this size does of course mean that browsing websites and reading large documents takes a fair amount of scrolling, but the touch-sensitive navigation button does a decent job of keeping up with movements, and the speed at which you flick across it is translated accurately into on-screen movement.
Despite the poor resolution and small size, the screen is bright enough to be read outside and is evenly lit. Zooming into sites to read text is done by one click and paragraphs are automatically justified, so there's no need to scroll horizontally.
Browsing the web is possible, but if you want a phone that can do it with ease then we suggest you look elsewhere, as this is definitely not the Curve's strong point. Charging and syncing is done via a micro USB port on the right hand edge of the phone.
During testing we found call quality to be good and plenty loud enough while those who we called said they could hear us clearly as well.
BlackBerry Curve 9320: Operating System and Performance
The Curve 9320 comes with BlackBerry's newest operating system, BB OS 7.1, and has Facebook, Twitter and more installed out of the box. A new addition to BB 7.1 is a hotspot tethering application that lets you share the BlackBerry's internet connection with Wi-Fi devices such as a laptop or tablet.
Not much else has changed with the BlackBerry OS, as we wait for the all-new BB10 operating system due out later this year
DIgging down into commonly used settings can take longer than you'd expect, with altering the screen brightness taking five clicks of the select button along with plenty of scrolling - something that iOS and Android has speeded up significantly with their systems.
While the Curve 9320 isn't touch-enabled, the navigation key is sensitive enough to scroll through menus and web pages quickly, but this didn't stop us from wanting to tap the on-screen icons every so often.
Where the Curve shines is with communication and messaging. Once you've signed in with your Facebook, email and Twitter accounts, the unified inbox does a great job of giving everything you need in one place.
Emails from all accounts, friend requests and messages from Facebook, as well as direct messages from Twitter are all in one place (and in their own apps, too, if you prefer to keep this separate).
Just about every social network is available as soon as you turn the Curve 9320 on, as it has Facebook, Twitter, Windows Live Messenger, Yahoo Messenger and Google Talk installed already.
And of course there is BlackBerry Messenger, too, which can be hooked up with Facebook and Twitter to keep you and your friends fully connected.
This is where the Curve excels and you begin to forget about the limited processing power and small screen, as messaging and social networking is what this phone does best.
As for media, we wouldn't suggest you watch video or spend too long showing off photos on that tiny screen, but there is a decent music player - with volume and play/pause button on the right edge of the phone - and there's an FM radio, too.
Finally, the 1450mAh battery saw us through two days of average use at best, if you don't spend too long browsing and downloading, but most of the time, the battery wwon't make it to the end oft he second day and while better than most high-powered smartphones out there, you are still looking at charging it evey day.
BlackBerry Curve 9320: Camera
The new Curve's camera has a 3.1-megapixel sensor with image stabilisation and digital zoom, although image quality degrades quickly when you start to zoom in.
There's also geotagging to pinpoint where your photos are taken using the phone's GPS chip and an impressive number of scene modes to pick from. These include Face Detection and Portait to highlight skintones and sharpen the foreground, along with Sports for fast-moving images, Party for dimly-lit scenes and Beach/Snow for photos in bright environments.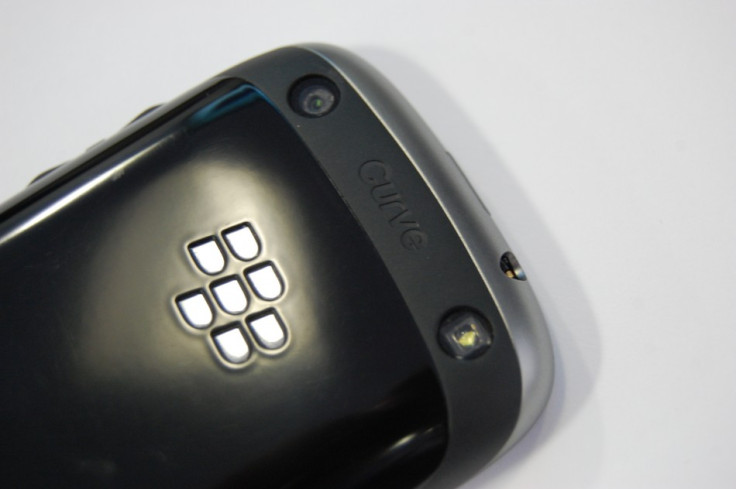 You can also set the size of images taken if you need to save on storage space, large measure 2048 x 1536, while small are just 480 x 3260 pixels; there's also a warning to let you know when space for just 25 images remains on the microSD card.
At 3.2 megapixels, the camera sounds poor compared to more expensive smartphones, but the Curve 9320 provides decent photographs. While you might not be printing them on A2 canvas anytime soon, they are perfectly acceptable for sharing to social networks like Facebook and Twitter.
As can be seen from the photos at the end of this review, the Curve takes acceptable outdoor photos, even on a cloudy day, but photos taken indoors are a little dull, with the second photo showing a degree of blur despite being stood still when taking the shot.
Some sample photos taken with the BlackBerry Curve 9320 can be seen at the end of this review.
BlackBerry Curve 9320: Verdict
At around £160 SIM-free or from just £10.50 per month, the BlackBerry Curve 9320 is cheap for a smartphone. The phone can handle social networking and email with ease, while offering limited internet capabilities and a half-decent camera.
For anyone starting out in the world of smartphones, the Curve gives them a good starting point by offering most of the basics without overloading the user with features and gimmicks they will never use.
Alternatively, parents looking at buying their child a first phone should also consider the 9320, as it will offer almost everything they want without costing the earth, and in a package that is well made and offers the popular BlackBerry brand at an affordable price.
Scores:
Screen: 5/10
Design: 7/10
Camera: 6/10
Operating system: 7/10
Build quality: 7/10
Overall: 7:10
The Good:
Good social networking features
Well made
Compact design
Decent battery
Attractive price
The Bad:
Keyboard feels too small
Screen small and low res
No front-facing camera
Operating system takes time to navigate
Sample Photos: