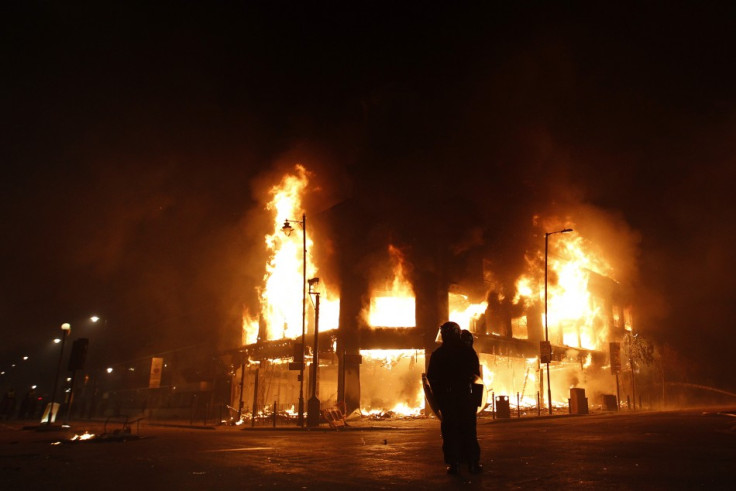 BlackBerry Messenger was to blame for the rapid spread of the August riots across the UK, according to research carried out by "BBC Newsnight" and The Guardian.
It was previously believed that social networks like Twitter and Facebook were to blame for the widespread rioting that occurred in London, Liverpool and Birmingham in the summer, but now it seems BBM was the culprit.
"It was BlackBerry phones that were the main tools for organising the riots," BBC Newsnight reported Monday. "The private messages known as broadcasts and pings that were being shared along chains of friends were reaching tens of thousands of phones - and not only in the UK."
The study involved interviewing 270 rioters.
"Me and a couple of friends were on holiday and people were sending broadcasts and a couple of my friends pinged me telling me what was happening," a man calling himself "Daniel" told "BBC Newsnight."
The messages broadcast through BBM included rallying calls in the wake of the police shooting of Mark Duggan. Messages also included lists of where the rioters should meet.
"Daniel" continued: "Soon as I saw that [police car being set alight] I was happy. For some reason I just wanted to be there, I wanted to burn the cars and see them burn. What I have gone through in my life the police have caused hell for me.
"We all cut our holiday and came straight back to England." He and his friends flew home nine days before the end of their holiday.
The rioter added that throwing missiles at police "felt good, it felt like 'Call of Duty.'"
In the wake of the August riots, which lasted four days, social media was blamed and came to a head when BlackBerry manufacturer Research in Motion was instructed by the government to hand over details of users who incited crime over the BBM network.
Some MPs, such as David Lammy of Tottenham -- where the riots began -- appealed for the BlackBerry Messenger network to be shut down in an attempt to stem the riots.
Lammy said at the time that BBM was "one of the reasons why unsophisticated criminals are outfoxing an otherwise sophisticated police force."
RIM agreed to cooperate with police after the riots and handed over information about the rioters, including names, number of messages sent and received, names of recipients, the time messages were sent and the location from which they were sent.
The Canadian manufacturer said at the time: "As in all markets around the world where BlackBerry is available, we cooperate with local telecommunications operators, law enforcement and regulatory officials. Similar to other technology providers in the UK, we comply with The Regulation of Investigatory Powers Act and co-operate fully with the Home Office and UK police forces."
The act lets police compel companies like RIM to hand over information.