With BlackBerry's first financial results featuring BlackBerry 10 due out in a few weeks, we speak to the company's UK chief about how the launch period has gone.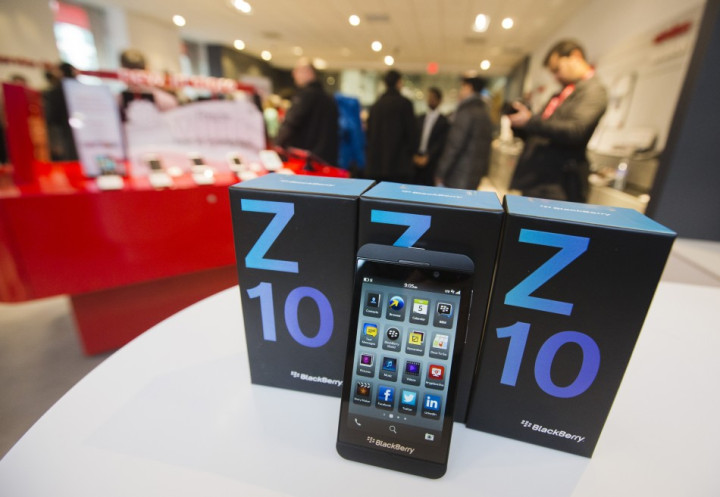 BlackBerry did not have a major presence at Mobile World Congress this year. It chose to set up in a discrete location separate from the craziness taking place at the Fira Gran Via conference centre in Barcelona.
BlackBerry chose to do its own thing a month ago with the coordinated launch of BlackBerry 10 (BB10) in six locations around the globe. The timing worked. Setting itself apart from the Consumer Electronics Show in early January and Mobile World Congress meant BlackBerry had the headlines all to themselves.
However the real test of whether it worked will be seen on the company's balance sheet and not on the amount of column inches the launch garnered.
A month on and the head of BlackBerry in the UK and Ireland Rob Orr is in a "quiet period." This doesn't mean he is spending this week in Barcelona eating tapas and drinking Rioja, it means BlackBerry is in the final days of its current financial quarter and therefore he cannot talk about anything to do with the future of BlackBerry.
We will have to wait until the 20 March to find out the current quarter's results, which will for the first time include one month's worth of Z10 sales. Despite its global launch, BlackBerry 10 and the Z10 smartphone are only available in a limited number of markets so far, including the UK, Middle East, France, Italy and of course the company's home territory of Canada.
Really good
Orr says the reaction since launch has been "really good" with the company seeing "endorsement from all of our different customer groups."
The UK chief says he has been approached by journalists, consumers and people in enterprise telling him how much they like the features which BlackBerry already knew "were special about the platform."
"The carrier retail forums in the UK [have been] scoring it 4.7 or 4.6 out of five - very high scores across a good sample size," Orr says.
It all sounds really positive for BlackBerry who need BB10 to be a huge success if they are to survive as a major player in the smartphone market.
While Orr couldn't comment on it in Barcelona, the past few weeks have seen several high profile reports from analysts damning BB10 and massively cutting predictions for sales of Z10 smartphones.
First up was Pacific Crest analyst James Faucette who issued a research note last week which estimated Blackberry Z10 sales of between 275,000 and 325,000 this quarter, significantly down on the Wall Street estimate of one million units.
"We believe the Street has gotten ahead of the potential reality for BB10 shipments. There is no line of sight to profitability; we remain sellers of BBRY."
Argument
Next to wade into the argument was analyst Michael Genovese from equity research firm MKM Partners who cut his outlook on BlackBerry shares saying there is now a 90 percent chance BlackBerry 10 will flop.
"The Z10 hardware seems bulky and heavy, but the biggest problem by far is the lack of available applications for BB10," Genovese said.
The lack of apps was one of the major issues critics have had with the platform so far, but Orr remains positive about the work BlackBerry has done in this area.
He points out that getting 70,000 apps on board for launch is something no other platform has managed. The problem is that all 70,000 are not available yet, with some of the biggest names on other platforms absent.
One of those, WhatsApp, will launch in the middle of March Orr said while other big names like Skype will come in due course.
The problem BlackBerry has is that it doesn't have the luxury of time to wait for developers to put their weight behind the platform. BlackBerry 10 needs to be a success from the start.
Supporter
The news got worse for BlackBerry when noted supporter of the company, Macquarie Capital Markets cut its price target to $11 (the share price currently sits at $13.43) with a Neutral rating. This indication that BlackBerry shares were likely to continue to fall followed two years in which Macquarie maintained a positive outlook for the Canadian firm.
While the 20 March report will be the first to include BB10 sales, the platform has yet to launch in all markets. A specific date for a US launch has yet to be set, but considering the company has virtually lost its entire market share there, it won't be expecting to BB10 to have as big an impact as elsewhere.
In recent quarters up to a third of total global shipments of its BlackBerry 7 smartphones have been in the developing markets of Thailand and Indonesia. The new platform is due to launch there in March but it is unlikely that BB10 devices will sell as well as BB7 ones - initially at least.
The reason markets like Indonesia and Thailand have been huge growth areas for BlackBerry in recent years is the relatively low cost of the smartphones combined with the low cost of data plans required to use them.
Selling price
The average selling price of a BlackBerry 7 smartphone was between $200 and $300 dollars but the expected price of the BB10 hardware in those markets is likely to be $500 to $600 putting it well outside the reach of a huge section of the population.
BlackBerry 7 smartphones are likely to continue selling well in what are now vitally important markets for the company, but unless we see the price point of BB10 hardware drop dramatically in the coming months, BlackBerry will find it difficult to succeed in these markets.
Orr, who IBTimes UK has spoken to on a number of occasions in the past six months, is a hard guy not to like. He is permanently upbeat and proud of what BlackBerry has done, is doing and is planning on doing. He clearly loves the company he works for, but despite his positivity, the UK chief could soon find himself in a much more extended "quiet period."