With 2.1 million estimated electronic cigarette users in Great Britain, the market has quickly become saturated with big businesses spending millions on marketing to appeal to smokers and ex-smokers alike.
The burgeoning UK electronic cigarette market welcomed a new brand to the sector in May. US e-cigarette company Lorillard bought brand Skycig for £30m and rebranded it as Blu – spending £20m on marketing in June and seeking to establish it as a market leader in the UK to match its reputation in North America.
Blu now controls 22% of the UK electronic cigarette market, making it the third largest company after Vapestick (29%) and VIP (26%). Along with its growing popularity comes a notable social media following, most likely a result of its focus on a youthful market – one of Blu's standout digital campaigns is an eight-part online-only electronic-music series aimed at showcasing the evolution of the DJ, which launched in August.
But can the product stand up to the flashy marketing campaign?
Blu: The website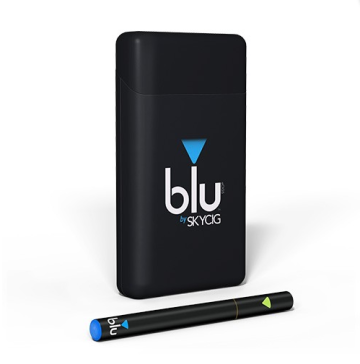 The interface of most electronic cigarette websites can be confusing for someone new to the trend. It's complicated to work out what you need to buy to get started, and though all brands offer a 'starter kit', Blu's website is simpler and easier to navigate than most.
Purchasing the starter kit is the sensible option for someone unsure of what they need, who wants to sample what's on offer in the world of e-cigarettes, or who is using an electronic cigarette for the first time. The Blu site offers free delivery, which sets it apart from other brands, and the ordering process is fuss-free.
Blu: Value and flavour
The starter kit costs £14.99 and contains two batteries, two cartridges (these provide the 'flavour' and are available in classic tobacco or menthol only), one USB stick charger and a carry case, which is a sleeker version of a traditional cigarette packet.
The kit is advertised to last between 4-8 months and provide the equivalent of around 1,200 puffs on a traditional cigarette, and so far, it appears to be living up to that promise. The set-up is perhaps over complicated – you use the USB to charge the carry case, and then use the carry case to charge the cigarette – but it means you can charge the cigarette on the go so there are longer gaps between charging at home, giving it an edge on its competitors that on the whole do not include such a feature.
The carry case is also a desirable feature for someone who is new to electronic cigarettes, as the motion of removing a Blu cigarette from the packet is not unlike smoking tobacco cigarettes. However, the flavours are slightly disappointing and the range is lacking compared to other brands. The classic tobacco cartridge tasted stale, however menthol was pleasantly minty, without the harsh, sweet flavour of some other brands.
The smoking sensation in the Blu cigarette is often quite weak, delivering a strong 'hit' only right after charging. This can be a good or bad thing for people looking to give up smoking, but will not satisfy the majority of heavier smokers.
Blu: Design
It's clear that Blu had a substantial financial pot for their marketing team and is attempting to sell itself as an aspirational brand rather than just a vehicle to quitting smoking. The electronic-cigarette is sleek and attractive, with a blue LED 'tip'. The carry case is light and slim, and its texture makes the e-cigarette feel moderately luxurious.
Scores:
Value 8/10 – The cost is mid-range compared to other leading brands, however the addition of a carry case for charging 'on the go' makes it incredibly good value for those new to e-cigs.
Flavour 5/10 – Only two flavours (menthol and classic tobacco) come with the starter kit, and classic tobacco was disappointing. Cherry flavoured cartridge refills can be purchased separately, but are only for those who like things extra sweet.
Design 8/10 – The sleek, black and blue design with a blue LED on the tip of the cigarette is attractive, however it does not give the opportunity to 'personalise' the e-cig like competitors including VIP.
Overall 7/10 - Ideal for someone new to smoking e-cigarettes, but unlikely to satisfy a user with experience of other, stronger offerings.