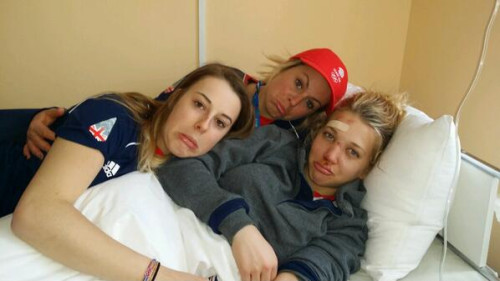 The British Olympic Association are ready to overlook International Skiing Federation guidelines and sanction Rowan Cheshire's return to action just days after suffering a concussion during training ahead of the halfpipe skiing competition.
Cheshire, 18, was hospitalised on Sunday after being knocked-out having fallen on her face during training ahead of the women's halfpipe skiing competition which starts on Thursday.
FIS regulations state athletes should only return to competition a minimum of six days after any incident involving concussion in order to allow for a full recovery and to prevent serious injury in the event of a repeat.
"If a Medical Practitioner is managing the recovery of the athlete it is possible for the athlete to return to play after a minimum of six days having successfully followed and completed each stage of the GRTP [Graduated Return to Play] protocol," the FIS Concussions Guidelines read.
But a BOA spokeswomen told IBTimes UK: "We are aware of the guidelines but they are guidelines so they are not rules as such."
The FIS were unavailable for comment.
After updating Cheshire's condition on Sunday, the BOA will release no further news regarding her condition until a decision is taken over her participation in halfpipe qualification on Thursday.
The treatment of concussions is among the primary issues across sport, with skiing among the most often affected along with rugby, which forces players to miss a week of action before a return to competition.
American snowboard duo Shaun White, who was injured in halfpipe training and forced to withdraw from the slopestyle event with a wrist injury, and Torra Bright have submitted complaints regarding the unsafe nature of the halfpipe course earlier in the Games.
The warm weather in Sochi has played havoc with course conditions, forcing training on the halfpipe course to be originally cancelled on Saturday at Extreme Park conditions.
Those humid surroundings are however not said to have affected the injury to Russian skier Maria Komissarova, who underwent back surgery after breaking her spine during ski-cross training.
Cheshire continues to recover from the blow after being monitored overnight following the incident and posted on Twitter a graphic image of the injuries sustained in the fall.
A decision over the Stoke-on-Trent skiier's participation in the Olympics will be made on either Tuesday or Wednesday.