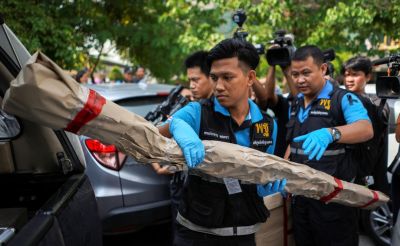 A bomb exploded at an army hospital in Bangkok, leaving at least 24 people injured.
The blast occurred around 11am (5am BST) on Monday (22 May), the third anniversary of the coup that brought the current military government to power in Thailand.
The bomb was detonated in a reception room for retired civil servants at King Mongkut Hospital (Phramongkutklao Hospital) in the Rajthevi district of the capital.
The Thai army's chief of staff, General Chalermchai Sittisart said the blast occurred "in a room full of people who were waiting for their medications."
24 people were "slightly injured", with the majority of injuries having been caused by broken window glass, according to police.
Remnants of a wire and battery were found at the site.
"We found wiring and what seems to be the remains of battery parts that could have been part of the bomb. The intention of the attack is still unclear but this attack is unacceptable and I condemn this," Deputy Police Chief Sriwara Rangsiramanakul told reporters.
Commander Kamthorn Aucharoen said: "It was a bomb. We found the pieces that were used to make the bomb."
Authorities are reviewing CCTV footage to determine who carried out the attack.
It is the third explosion to strike Thailand this month. On 15 May, twin blasts rocked popular tourist destination Pattani, in the south of Thailand, leaving 60 injured.
Earlier on Monday (22 May), a bomb went off in Yala, a Muslim-majority province in the south, wounding several military officers. The deep south of Thailand has been rocked by attacks in the past years as Muslim militants fight for an independent state in the predominantly Buddhist country. Militant groups in the southern states Yala, Pattani and Narathiwat have killed more than 6,500 people since 2004, according to monitoring group Deep South Watch.