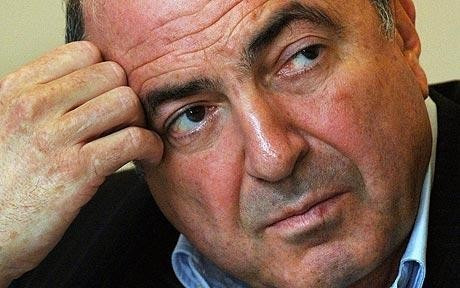 Police investigating the death of Boris Berezovsky have given the all-clear after forensic experts trained in the use of radioactive agents were called in to search his home.
Investigations are continuing to establish the cause of the Russian oligarch's death, which is being treated as unexplained. Speculation has so far focused on suicide, a heart attack, or possible foul play.
Officers trained in chemical, biological, radiological and nuclear agents found "nothing of concern" in the property in Ascot, Berkshire.
Thames Valley Police are now carrying out a "full and thorough investigation" to ascertain the circumstances surrounding his death, which was confirmed in a Facebook post by his son-in-law, Egor Schuppe, yesterday. Berezovsky was 67.
The coroner is believed to have attended the Berezovsky home in Ascot, Berkshire, though his body has not yet been removed. The property was still cordoned off by police today, with further details yet to be released.
"His death is currently being treated as unexplained and a full inquiry is under way," Thames Valley Police said.
According to Schuppe, Berezovsky had been depressed, had failed to return calls, seldom left his residence and in his final days spent most of his time indoors.
Berezovsky's close friend Alex Goldfarb said: "We will learn later what exactly happened. But in recent months Boris was depressed. There was no secret about that. One day he was cheerful, the next down.
"The court case was a massive blow to him personally, politically and financially. He was depressed. We were concerned about him."
Damian Kudriavtsev, the former CEO of Kommersant Publishing House, issued a Twitter post saying Berezovsky died at 11am in London, but that there were no signs of a violent death.
Aleksandr Dobrovinksy, head of Moscow-based Alexander Dobrovinsky & Partners law firm, said Berezovsky had taken his own life.
"Just got a call from London. Boris Berezovsky committed suicide. He was a difficult man. A move of disparity? Impossible to live poor? A strike of blows? I am afraid no one will get to know now," Dobrovinksy said.
On the day before he died, the tycoon gave an interview to Forbes Russia magazine in which he said his "life had lost meaning", adding: "I do not know what to do. I am 67 years old. And I do not know what to do next."
The tycoon said he had "underestimated how important" Russia was to him and wanted to return to his homeland.
He said he felt uncomfortable as an immigrant in Britain, Forbes Russia reported, and that his visions of a democratic Russia and views of Western democracy had been "idealistic", and had changed.
Only last month, Berezovsky is understood to have written to Russian president Vladimir Putin, apologising for his mistakes, asking forgiveness, and asking the Russian president's permission to return home.
Berezovsky was a close friend of Alexander Litvinenko, the former officer with Russia's FSB spy agency, who was poisoned with the radioactive substance Polonium-210, after meeting Russian agents at a London hotel in 2006.
Investigators suspect Russian state involvement in Litvinenko's death. Russia's refusal to hand over the main suspect in the murder, Andrei Lugovoy, casued a breakdown in diplomatic relations between Russia and the UK.
For years, Berezovsky bankrolled the effort of Litvinenko's widow Marina to push for an inquest into her husband's death. The inquest is due to commence in October, and Berezovsky had been due to give evidence as a witness.
In an interview with Forbes magazine the day before he died, Berezovsky said his "life had lost meaning", adding: "I do not know what to do. I am 67 years old. And I do not know what to do next."
In 2011, he paid out hundreds of millions of pounds to his ex-wife Galina Besharova, in the most expensive divorce settlement in British legal history.
Last year, Berezovsky lost a High Court case in London against Chelsea FC owner Roman Abramovich over the ownership of Sibneft, in which Berezovsky had sought more than £3 billion in damages.
The row centred around murky dealings in the world of Russian business following the collapse of the Soviet Union, when the state's vast assets were auctioned off at huge discounts by then president Boris Yeltsin. The failed legal action is believed by many to have left Berezovsky financially ruined, with legal costs estimated at £100 million in what was the biggest ever private litigation contest .
Lord Bell, the PR executive and close friend of Berezovsky who had acted as his spokesman, said he had last seen the oligarch three weeks ago, describing him as "extremely depressed".
"He has been very low since the court ruling against him," said Lord Bell. "He had huge financial problems and personal problems, too."
Lord Bell said Berezovsky had never recovered from Mrs Justice Gloste's High Court ruling, in which she called him "an unimpressive, and inherently unreliable, witness, who regarded truth as a transitory, flexible concept, which could be moulded to suit his current purposes", and which he felt had wrecked his reputation.
"That judge destroyed his morale. It destroyed his self-esteem," said Lord Bell. "He was an extremely nice man, very kind to me and all the people around him. I had a huge amount of admiration for him."
Berezovsky had been planning to auction a portrait of Communist leader Vladimir Lenin by Andy Warhol, to raise money to pay off creditors and settle legal fees, it was reported last week. The 1987 portrait was valued at between $45,000 and $75,000, by auction house Christies.
The tycoon, who was born 1946 and first made money selling luxury cars after training as a mathemetician, fled Russia in the late 1990s amid a money-laundering scandal surrounding the Russian state airline Aeroflot.
He made his fortune in Russia in the 1990s, gaining control over state assets including the country's main television channel, Channel One. Berezovsky enjoyed immense power during the last years of Yeltsin's presidency, when he was deputy secretary of Russia's security council.
Berezovsky had been on Russia's wanted list since 2001 on charges of fraud, money-laundering and an illegitimate bid to seize power. In 2007, a Russian court found him guilty in absentia of embezzling 215 billion roubles in Aeroflot funds, and he was sentenced him to six years in prison. In total, he was sentenced to 19 years' imprisonment by Russian courts on various charges.
Berezovsky said the cases against him had been contrived by Russian President Vladimir Putin, and that his life was in danger in Russia. He was granted political asylum in Britain in 2003.
After Putin came to power in March 2000, Berezovsky went into opposition and resigned from the Duma.
In 1997 Forbes magazine estimated Berezovsky's wealth at US$3 billion. After his flight from Russia, many of his assets were confiscated by the state.