Enterprise cloud storage and data sharing company Box has established its international headquarters in London, opened by the Duke of York Prince Andrew, amid rapid expansion in the capital.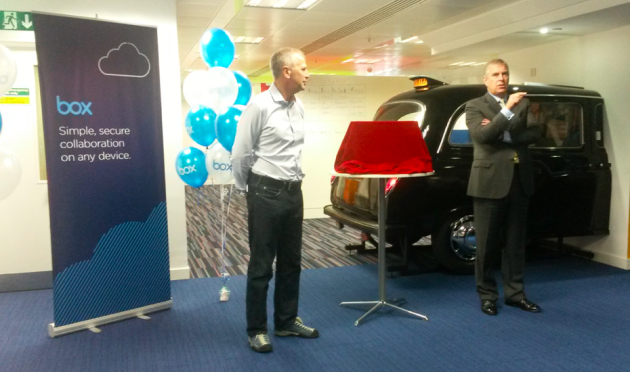 Box's new London headquarters, located close to Marble Arch, offer space for 80 employees, partners and customers, and were officially opened by the Duke of York.
David Quantrell, Box senior vice president, told IBTimes UK how the London office became the international HQ: "We established the roadmap to move to London in June 2012, but there have been some changes along the way, because at that point we hadn't considered London as a location for an international headquarters.
"Six months ago we formed a decision that we needed an international HQ. We spent quite a bit of time with London & Partners and the Mayor's office to work out what to do - and the Olympics were nicely timed because of the various initiatives [aimed at helping technology startups] launched there."
Box is a secure cloud storage company allowing users to store and share digital content across multiple devices and platforms including iOS, Android, Windows Phone and through Google Apps.
Why not Ireland?
Quantrell said the US-based board had put pressure on the international team to locate Box in Ireland, where other major US tech companies have headquarters, most notably Apple.
"'Everyone's doing Ireland - why aren't you?' the board said. But we decided London was most beneficial for the company."
Quantrell added: "We decided that London was not just an ideal location for an office, but also a great place to establish an official headquarters for our international operations."
Grow and expand aggressively
Quantrell described London as "a central hub in the world economy and home to a fantastic pool of talent," and praised the government's Patent Box scheme for providing the company with "a supportive environment for continuing to grow and expand aggressively."
With regard to expansion, Box has seen its UK workforce grow from 70 to 80 over the past two weeks, and Quantrell said the London office will reach 100 employees by the end of 2013.
During the initial hiring process, Quantrell explained how he held interviews "back-to-back for two weeks straight" but didn't hire anyone. Instead, the mass-interviewing gave him and the Box board "an idea of how the culture here in London translates to that in the US."
With more than 20 million users worldwide at more than 180,000 businesses, Box saw a 150% increase in sales in 2012, and is on track to double this again in 2013. Global customers include Rosetta Stone, Schneider Electric and Heathrow Airport.
Despite rapid expansion in London, Quantrell revealed that company CEO Aaron Levie will not be leaving its California headquarters, and instead will visit London "two or three times a year."
"Fantastic news" for London
Mayor of London Boris Johnson said the opening of Box's London HQ is "fantastic news" for the city.
Johnson added: "This comes after Box took part in my programme held during the Olympic Games last year that gave investors a taste of all that London has to offer. This arrival is further welcome evidence of London's status as a leading tech capital helped by the availability of a talented workforce, the work space and world beating universities."