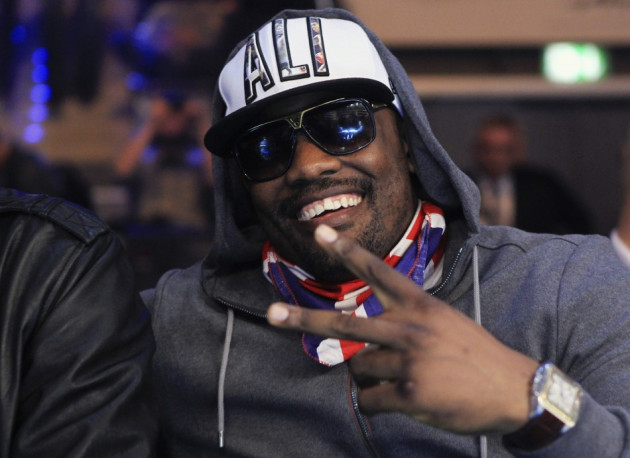 Dereck Chisora took the opportunity to land a verbal blow on fellow heavyweight Deontay Wilder as it was confirmed that the Londoner would be back in action on July 20 against Malik Scott.
The 29 year old was set to face Wilder at Wembley Arena but the heavy hitting prospect was arrested on a domestic violence charge and the bout was scrapped.
Chisora will now face another undefeated American in Scott who he believes will be an even tougher challenge than Wilder.
"It's a tougher fight and I can't wait," said Chisora. "Scott is a Rolls Royce while Wilder's a Robin Reliant - but I know my strengths.
"He's big, unbeaten and dangerous. I'm just looking forward to going out there and doing a real good job on him. I will make a real statement against Scott and show that I'm back on track for the world title."
Scott is undefeated in his 36 contests but he is unlikely to cause Chisora too many problems having only fought domestic level opponents and never with anyone considered an elite fighter.
While Chisora looks to land another opportunity at a world title, IBF intercontinental super bantamweight world champion Frampton confirmed that he had left the Matchroom stable and would now join forces with Frank Warren.
Frampton will also box at Wembley Arena on July 20 and is hoping that Warren can help him secure a shot at a world title.
"I'm really excited to be on the show at Wembley and for the opportunity to be showcased on a great channel like BoxNation," said Frampton. "I want to be a world champion and BoxNation will give me the platform to do it. I've got to keep winning and doing the business, but this is great time for me."
Frampton will be co promoted by his manager Barry McGuigan who was delighted to see the Northern Irishman join the Warren stable.
McGuigan added, "This is an exciting time for Carl and I'm absolutely delighted for him. Carl is a superb fighter, he thrills the fans with his performances, and he has knockout power with both hands. He really has the X-Factor and it's going to be an exciting ride to the world title."