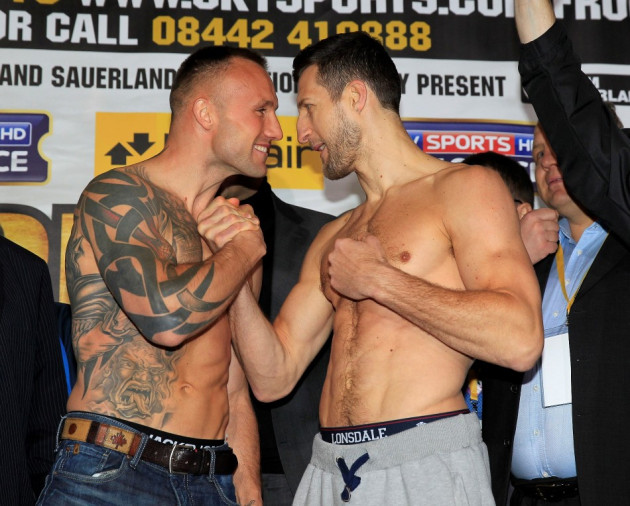 Carl Froch is out for revenge on Saturday night when he looks to defeat Mikkel Kessler and retain his IBF super middleweight title at London's 02 Arena.
The Cobra was outpointed by Kessler when they fought in Copenhagen back in 2010 but has always maintained that the decision may have gone the other way if the fight would have taken place in the United Kingdom.
Froch may have lost to Andre Ward since that defeat to the Dane but his near punch perfect performance in destroying Lucian Bute in just five rounds has many believing that he is the favourite to win the rematch.
Kessler is certainly not to be underestimated though, the Viking Warrior has 46 wins to his name and has stopped his last three opponents - though he was put on the floor by Allan Green last year.
Both men are predicting a victory but who do some of boxing's biggest names think will emerge victorious on Saturday night?
David Haye, former unified cruiserweight world champion and WBA heavyweight title holder
"You never know if someone's the same fighter as he was until he fights the same guy again. Against Lucian Bute, it looked like Carl was a better fighter than before but Kessler's not Bute.
"Carl won't be anticipating a first-round knockout; he's not stupid. He knows it's life and death in there and he's going to have to be on his A game.
"It's going to be a tough fight but you've got to go with Froch on points. It will be exactly the same fight as last tim, but last time it was in Copenhagen and now it's in England, which is why Carl will get the nod and pip Kessler on points. Carl's preparation has been bang on and that will give him the edge."
Andre Ward, current super middleweight king who holds victories over both fighters
"Froch has been in some tough fights but he has more in the tank. Kessler has dipped a little bit since he and I fought, and even since he fought Froch the first time. It's going to be a tough fight, it's going to be back and forth, but I can't see Kessler winning.
"Kessler's last two performances, he hasn't fought the best guys. A shop-worn Allan Green then Brian Magee, who's very tough but limited, so he's going to look good against them. I don't know if he has the same fire as when he fought Froch the first time. I wouldn't be surprised if Froch stopped him."
Bernard Hopkins, IBF light-heavyweight champion who is desperate to fight the winner
"It will be a tug of war, back and forth, but Froch will use his grit, intelligence and speed to take over the fight. Froch is more of a complete fighter than Kessler so I am going for him.
"Kessler has not been too active and I don't think he has got better over the last two or three fights, or even two or three years. It is going to be an exciting fight but Froch is going to win, and I don't think it's going to be close, either. Froch is going to win by at least eight rounds out of the 12."
Joe Calzaghe, former undisputed super middleweight champion who defeated Kessler in 2007
"I don't think Kessler is the fighter he was when I beat him. He's become a lot slower on his feet, he's a lot easier to hit, he's had troubles with injuries and he's been inactive. Fighting at home is a massive advantage for Froch as well.
"Froch has aged a bit better than Kessler. Kessler isn't as mobile as he used to be and I've noticed he doesn't move his head like he used to.
"He's flat-footed and that suits Froch because he doesn't like movers, he likes people right in front of him so he can unload his punches. Kessler is still a warrior but if I have to vote for one of them, I'd have to go with Froch."