Carl Froch has reiterated his desire to face Andre Ward later this year but the American's trainer has given the newly crowned WBA super middleweight champion very little chance of avenging his previous points loss.
Virgil Hunter has worked with Ward since the fighter was in his teens and has masterminded his rise to the top of the super middleweight division.
Ward has amassed an impressive record of 26 wins with no losses and is largely recognised as the best 170lb fighter in the world after winning the Super Six series and then crushing Chad Dawson late last year.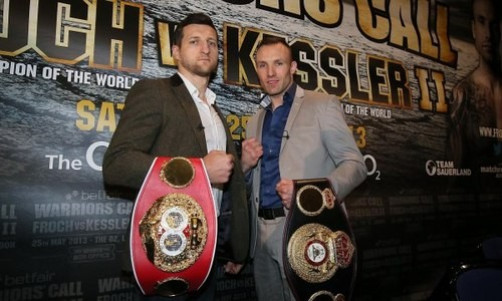 Froch has openly challenged the 29-year-old after defeating Mikkel Kessler in an epic war at London's 02 Arena on Saturday night, but Hunter believes there is no way the Brit could defeat his fighter.
"Carl would be a fool to fight Andre. Andre would beat him. In fact, he would beat both Carl and Mikkel on the same night," Hunter told SBNation. "Andre would knock out both of them. But, if they want to fight us, we would be happy to oblige. It remains to be seen, however, because nobody has made us an offer."
The Cobra is desperate to avenge his loss to Ward and in the past few days has consistently mentioned he wants the American to travel over to England to fight him on his home turf.
"I said before the Kessler fight that the winner should really be concentrating on moving on and my only other loss was against pound-for-pound No2 in the world Andre Ward.
"What a fantastic fighter he is and a great, great champion, but he is there to be beaten. But not over in America - let's get him over here. I went over to America to fight him last time and now let's get him over to England.
"He's living in cloud cockoo land if he thinks I'm going to fight him there again. Ward needs me more than I need him."
Froch is keen for his promoter Eddie Hearn to make the rematch in England and Ward has made it clear that he believes boxers need to fight in America to become a global star, but admitted that he would not be against the idea of travelling in order to prove his greatness.
"America is where you have got to go to become a star. You can be a great domestic fighter but, to become a worldwide fighter, you've got to stake your claim there," Ward told The Sun.
"His record is 4-2 on the road and he is undefeated in England, so I know why he wants to fight me here. If Eddie Hearn and Carl Froch really want the fight, they can call my manager and let's talk about it.
"The UK is not out of the question so pick your phone up and let's talk about it if you're serious. We would have to take it to Wembley."