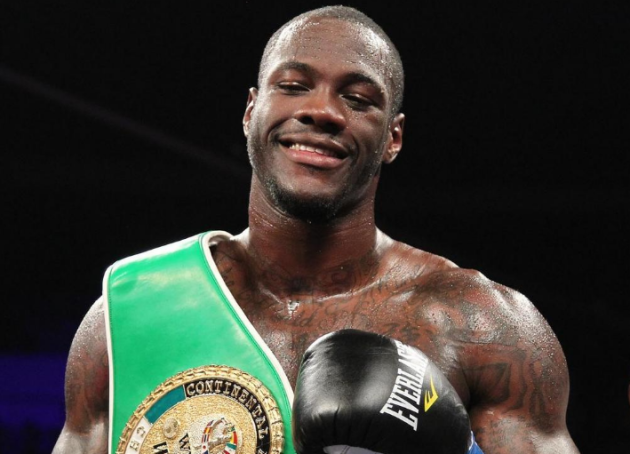 Deontay Wilder has continued his war of words with Tyson Fury by urging his fellow heavyweight to back up his boasts that he is Britain's best by facing former world champion David Haye.
Wilder came to the attention of British fans when he brutally defeated Audley Harrison in just 70 seconds and made it clear that he would be interested in coming back to these shores in order to face Fury.
The undefeated and often controversial Fury has repeatedly dismissed Wilder, who has stopped all 28 of his professional opponents, and the pair have had numerous heated exchanges on social media.
Fury has often questioned the level of opponent that Wilder has faced but the American has now responded and challenged Fury to prove his worth by sharing a ring with former WBA world heavyweight champion Haye.
"Tyson Fury is jealous and scared to fight me," Wilder told World Boxing News."The only way he can express himself is to do it by saying things about me as he knows I am a dangerous fighter and I will fight anybody, anywhere, anytime.
"First of all, Fury doesn't dictate who I fight. I could say why doesn't he take the challenge and fight David Haye?"
Fury suggested that Wilder was not even the best heavyweight in America, claiming that honour belonged to one of his own victims, Kevin Johnson.
Fury outpointed the veteran American but Wilder feels he is already the best in his home country and has questioned whether Tyson would be prepared to step in the ring with one of the top heavyweights in the world.
"Kevin Johnson is not the best heavyweight in America because I am. As I said I'll fight anybody, anywhere, anyplace, any race. Let's see if he does as David Haye is a great fighter and also a great guy," he added.
Wilder, who has previously sparred with Haye, was scheduled to fight back in the UK against Dereck Chisora but his recent arrest for domestic assault means that he cannot currently travel outside the US.