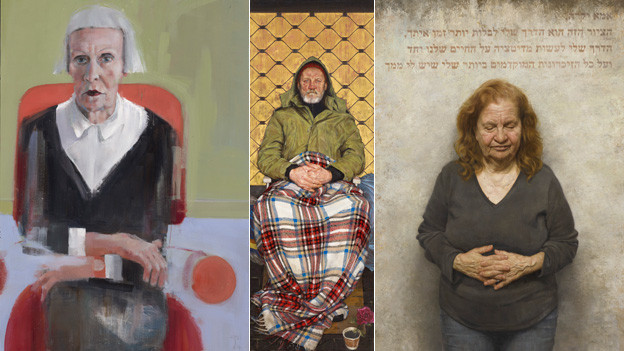 Three artists have been shortlisted for this year's prestigious BP Portrait Award at London's National Portrait Gallery.
Now in its 35th year, the competition received a record-breaking 2,377 entries from 71 different countries.
The National Portrait Gallery's director Sandy Nairne, said the standard of the entries proved it was an "outstanding year of contemporary portrait painting".
The three finalists in the competition have been named as Thomas Ganter, David Kassam and Richard Twose.
The subject of Thomas Ganter's Man With a Plaid Blanket is a homeless man named Karel, who Ganter met outside a museum in Germany.
"By portraying a homeless man in a manner reserved for nobles or saints, I tried to emphasise that everyone deserves respect and care," said Ganter. "Human dignity shouldn't be relative or dependent on socio-economic status."
David Kassam's Letter to my Mom features his own mother as his subject.
"My work is very personal and heartfelt. It's my visual diary, so my family and loved ones make up a large part of what and why I paint," said Kassan.
"My parents have always been inspirational to paint. This portrait is a letter to my mom, who hates it when I paint her," he said.
The Hebrew text painted above the image reads: "Dear Mom, this painting is my way to spend more time with you. My way to meditate on our life together, and all of the earliest memories I have, all of my earliest memories from you."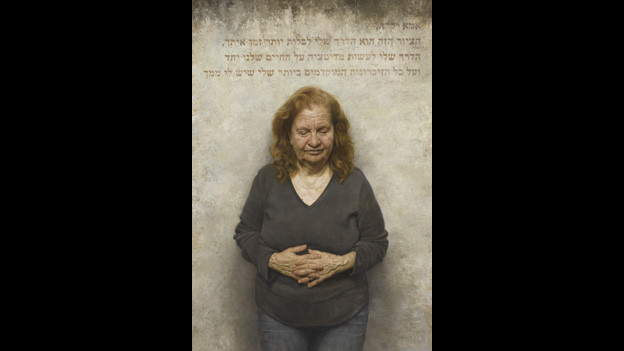 Teacher and artist Richard Twose painted grandmother and model Jean Woods, who featured in Channel 4 series Fabulous Fashionistas.
Impressed by her unique style he said: "Sometimes as Jean was talking, especially about her much-missed late husband, she reminded me of Rembrandt's Portrait of Margaretha de Geer."
"Jean has a similar intensity and honesty in her gaze. I wanted to capture that sense of someone who has learnt to be almost fearless, looking forward to life still but with a great richness of experience behind her," he added.
This year's judges include writer Joanna Trollope, artist Jonathan Yeo.
The winner of the competition will receive the £30,000 prize and a commission to paint a portrait for the National Portrait Gallery's permanent collection.
The winner of the BP Portrait award will be announced on 24 June.
The works will then go on public display at the National Portrait Gallery from 26 June to 21 September, along with 52 of the other entries.