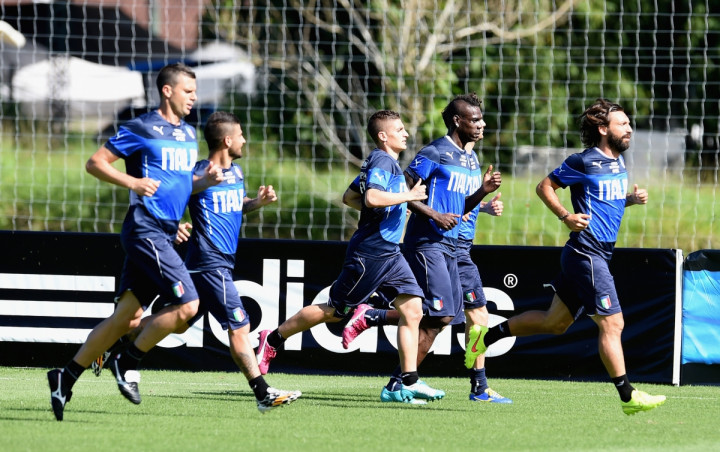 Italy's boss Cesare Prandelli plans to tackle England and the heat of Manaus by fielding two playmakers in a beefed-up midfield, tasked with monopolising possession and shielding the Azzurri's vulnerable defence.
Young star Marco Verratti, 21, is expected to play alongside Andrea Pirlo, 35, in an unconventional 4-1-4 -1 formation that has been repeatedly tried by Prandelli in training sessions leading up to the Italians' opening World Cup clash against Roy Hodgson's side.
The pair - dubbed 'the sorcerer and the apprentice' in the Italian press - will be tasked with passing the ball around and wearing out the Three Lions, using the humidity of the Amazon rainforest as a weapon.
The ploy might also gain Italy a few set-pieces - and allow Pirlo to exploit Fifa's decision to give referees a vanishing spray to ensure defenders keep their distance at free-kicks.
Claudio Marchisio and Antonio Candreva, who both offer stamina and penetrative runs, are favourites to flank the playmakers and complete the starting bank of four in the midfield.
Daniele De Rossi, meanwhile, is expected to watch Pirlo and Verratti's back, acting as a sentry in front of the defence.
Quality and extra legs in the midfield are intended to mask what appears to be the Azzurri's main weak spot: a defence that is arguably Italy's most vulnerable in decades.
When Italy won their fourth World Cup in 2006, they conceded just a single goal - an own goal - in the group stages and a dubious penalty converted by Zinedine Zidane in the final.
Prandelli's side have conceded at least one goal in eight of the last nine matches they have played, including fixtures against minnows Luxembourg and Armenia.
Key defender Giorgio Chiellini expressed his concern after Brazilian club Fluminense put the ball in Italy's net three times in their last friendly.
"We have to get back the right distances and the right rhythms," Chiellini said.
The indomitable defender is expected to play in the centre, alongside one of Andrea Barzagli and Leonardo Bonucci.
The Juventus trio are used to playing together in a three-man defence for their club and that is where commentators say part of Italy's defensive problem lies.
Prandelli might eventually opt for an even more more conservative approach by moving Chiellini to left full back, after 21-year-old Mattia De Sciglio suffered a calf strain. Matteo Darmian, 24, who has just two full international caps to his name, is expected to play wide.
Up front, the Italian coach is said to be unsure of whether to choose the mercurial talent of Mario Balotelli and the rising star Ciro Immobile.
Immobile, Serie A top scorer who has just signed a contract with Borussia Dortmund, scored a hat-trick against Fluminense and appeared in great shape.
Prandelli has however always shown confidence in Balotelli and might try to exploit the former Manchester City striker's high spirits after he announced his fresh engagement to his model girlfriend.
Italy's other talented bad-boy, Antonio Cassano, is widely tipped as Prandelli's choice to reinforce the attack in the last 30 minutes if the 4-1-4-1 formation is putting excessive demand on the lone striker.