Full time: Brazil 3-1 Croatia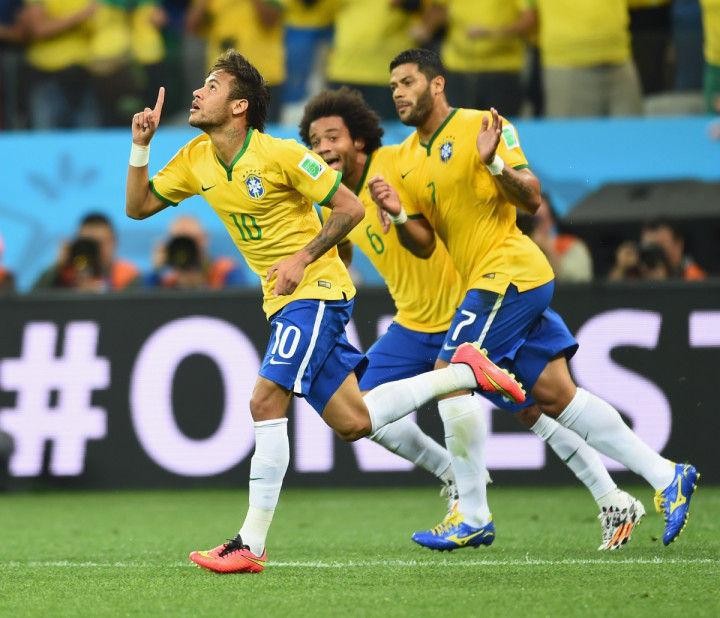 22:55: Full time in Sao Paulo and the hosts and favourites Brazil get off to the ideal start despite not producing a fully rounded performance in beating Croatia. Neymar scored twice, before Oscar made it three in stoppage time after Marcelo scored an own goal early on. Croatia were decent throughout and will be wondering what if after a debatable penalty decision against them saw Brazil take the lead. Something for everyone in that opening game, and guess what? That's just start. Three more games tomorrow, including Spain v Netherlands. Until then, goodbye.
Full time: Brazil 3-1 Croatia

22:52: Julio Cesar makes an oustanding save to deny Persie and before Croatia know it, the game is out of sight. Oscar breezes through and toe-pokes past Pletikosa and confirms victory for the hosts.

Goal: Brazil 3-1 Croatia (Oscar)

22:48: Neymar off, Ramires on as Brazil attempt to run down the clock. A Croatia free-kick is taken short and the cross finds Corluka, who can only head wide. Was that the chance for Kovac's side?

22:46: Brazil getting a bit nervy as the game enters the dieing embers and Cesar has to palm away Luka Modric's effort from range. Not be a quiet openin game this one, full of incident.

22:44: More controvercy in Sao Paulo and Croatia think they have an equaliser. A deep cross from the left see Olic outjump Cesar, allowing Perisic to knock into an empty net but the referee has called it back for either a foul or for the cross going out of play. Not really clear which. Mr Kovac might have a word to two to say after this.

22:38: Less than 15 minutes remaining for Croatia to get themselves back into this game but Brazil look more likely to get a third. Oscar's cross from the right is oustanding and David Luiz attempt to direct his header on goal, but only diverts the ball away from the incoming Neymar. That would have been a treble on his World Cup debut for the 22 year old.

22:33: Fortunate penalty for Brazil as Fred goes down very easily under the attention of Dejan Lovren. Yuichi Nishimura is comfronted by a host of Croatia players but refrains from reversing the decision, which allow Neymar to step up and via a odd-looking run up sees Pletikosa palm his effort into the right corner. Sao Paulo explodes again.

Goal: Brazil 2-1 Croatia (Neymar)

Penalty to Brazil

22:29: A decent competition betwen Hulk and Fred over who has been more ineffectual for Brazil tonight. The former is replaced by Bernard as Brazil add a bit more flare to their attack. Croatia just starting to sit in a bit.

22:26: Croatia get themselves into a mess as Neymar is gifted possesionm in the attacking third and Corluka is forced to make action with a crunching foul. Free-kick 30 yards out and Dani Alves is the lucky man but his effort balloons over the bar.

22:23: Change for Brazil not too as Hernanes comes on for Paulinho, who has been fulfilling the workshore role all night. Game has become a bit scrappy since the break.

22:21: Marcelo Brozovic on for Mateo Kovacic for Croatia as we reach the hour mark. Will we see a winner in the final 30 minutes?

22:20: Ivica Olic wants a penalty and a red card for Dani Alves after being tripped by the Brazilian's trailing leg as he runs through on goal. Not sure the Barca man had any idea what was going on as he was peeling away in the other direction. Brazil not into their stride yet as Neymar overhits a pass to Paulinho. Croatia enjoying a bit of possession.

22:15: First we've seen of Croatia as an attacking force. Olic again gets free on the left but his cross is put out for a throw. The ball is eventually fed to Perisic after a long passing move, but he curls over the bar.

22:11: Brazil monpolising possession in the early moments here without creating too much in the way of goalscoring chances. Vrsaijko fouls Oscar on the far right but the hosts can't make anything of the resulting free-kick.

22:05: Second half underway in Sao Paulo.

22:04: Second half on the way from Sao Paulo. Will be interesting to see for how long Croatia continue their offensive stance before they start to realise a draw against the hosts might be a very good result. Brazil will be going all out for the opening day win.

21:49: A thrilling start to the 2014 World Cup. Croatia have done much of the running in truth in the first half and went ahead through Marcelo's own goal but the tournament was given lift-off when Neymar equalised with a scrappy effort. Electric atmosphere in Sao Paulo once Brazil levelled and for a moment, there is no talk of protests, or corruption; all of the attention is on football, bliss. Join me for the second half in around 10 minutes.
Half time: Brazil 1-1 Croatia

21:40: Brazil looking to complete the turnaround before half time and they almost get a sighter at goal as Oscar rolls the ball across for the onrushing Paulinho but the ball is clear by Croatia. Kovac's team very neat in possession even if they have had to weather a storm since going ahead.

21:32: From zero to hero, Neymar drags Brazil back into the game. He escapes the attention of Modric and is quickly into his stride before hitting a shot which is half-scuffed but is low and beyond Pletikosa. Not a picturebook goal by any means, but Brazil will take it.

Goal: Brazil 1-1 Croatia (Neymar)

21:30: First bit of controvercy in Sao Paulo as Neymar is booked for an elbow on Luka Modric. The Croatian players want additional punishment as replays seem tio back that claim up, as the Brazilian forward clears takes a look at Modric before leavering him away from the path of the ball. Perhaos not much intent to hurt, but Neymar knew what he was doing.

21:27: A needless video replay via the goal-line technoogy system in place during these World Cup finals to show that Marcelo's effort did indeed cross the line on it's way to finding the back of the net. Fancy Fifa might run a few of these replays to ensure they get there money's worth.

21:25: Brazil are coming to the boil now and they almsot level. Neymar gets awy down the left touchline and though his cross is turned away from inside the six-yard area, Oscar's rasping effort from 30 yards forces Pletikosa into a sprawling save.

21:22: So what about a Brazilian responce? It's hardly been unrelenting pressure from the hosts but Oscar does force a corner after ghosting past Vrsaijko. Paulinho has Brazil's best effort on goal, bursting into the penalty area before having his effort beaten away.

21:14: The blue touch paper is well and truely alight in Sao Paulo as Croatia take a shock lead. Olic is again free on the left and has time to deliver a cross which after being mizssed by Jelavic, is poked into his own goal by Marcelo. Unfortunate way to conceed but you can't doubt that Croatia deserve it.

Goal: Brazil 0-1 Croatia (Marcelo own goal)

21:10: Genuine chance for Croatia and they should be ahead. Perisic peels away down the right, it allowed to come onto his favoured left foot and cross for Olic, who gets in behind Dani Alves but can only head wide as Cesar scrambled across his goal.

21:08: Free-kick for Brazil wide on the left. Marcelo, as oppose to Neymar, swings it in and After Thiago silva heads it back across goal, David Luiz heads down but straight at Pletikosa. Nice early touch of the ball for the Croat 'keeper.

21:06: More from Croatia as an attacking force as Olic escapes away from Thiago Silva on the left but his cross towards Jelavic is cut out by David Luiz. As you would expect, a few nerves out there from the host nation.

21:03: Under way in Sao Paulo and Croatia show their early intent as Matteo Kovacic unleashes from range but his effort goes wide.

21:01: Doves are released in the centre cirle to denote world peace. A Fifa brainwave that one. Here we go then...

20:57: Brazil's players arm in arm during the anthems, rugby-esq, which are belted out in Sao Paulo. Just minutes away kick-off in the opening game of the 2014 World Cup. Sounds pretty good doesn't it?

20:54: Teams walking out in Sao Paulo. Each of Brazil's have an arm on the shoulder of the player in front as they line up for the national anthems. A genuine display of unity that.

20:47: Images coming through of Neymar going over on his ankle as Brazil warm-up ahead of kick-off. The country takes a huge intake of breath but the Barcelona man seems ok to continue. Interesting to see how he gets on as the game begins.

20:40: And what of Croatia? Well Niko Kovac's side needed a play-off win over Iceland after finishing behind Belgium in qualifying but boast a blend of experience and excitement. Vedran Corluka and and Dejan Lovren make up a sterdy, if not pacey, pair at centre-back, Luka Modric is the fulcrum in midfield, while the real gem is Ivan Rakitic, who will join Barcelona ahead of the new season. Tonight's attack is led by Nikica Jelavic, but Bayern Munich Mario Mandzukic is ready to return later in the group stage.
20:31: What should we expect from Brazil tonight? The manner in which Luis Felipe Scolari's side dealt with the pressure during the Confederations Cup last summer has ratcheted up the pressure but proved Brazil have what it takes to deal with the expectation. In Neymar, the Brazilians potentially have another star in the making but it would be naiive to ignore the other threats. Hulk, Fred and Oscar make-up an exciting attacking quartet while at the back there is more security than in previous years, with Thiago Silva and David Luiz at centre-back. For once, it's a Brazil team who evoke more confidence in their defence, than attack.

20:25: If you haven't had the chance to assess the form of these two sides amid having had previews thrown at you, here is all you need to know on Brazil and Croatia ahead of the opening game, which is just 35 minutes away.

20:15: World Cup history is littered with classic opening matches. Cameroon shocking holders Argentina in Italia '90 and Senegal beating France in 2002 just to mention two. Can Croatia cause another shock tonight? Given the protests against the tournament to date, anything other than a fleeting win for Brazil could be met by further trouble on the streets of Rio and Sao Paulo.

20:08: First bit of team news in from Sao Paulo. Brazil line up as expected, with Paulinho included in midfield ahead of Ramires and Fernandinho, while Fred starts up front, flanked by Hulk and Neymar.

Playing very much a supporting role tonight are Croatia, who are hoping to become the first nation to beat a host nation in their opening World Cup match. Niko Kovac's side have a tasty midfield, with Luka Modric and Barcelona-bound Ivan Rakitic playing behind Hull City striker Nikica Jelavic.
20:05: Teams:

Brazil: Cesar; D.Alves, T.Silva, D.Luiz, Marcelo; Paulinho, L.Gustavo; Hulk, Oscar, Neymar; Fred.
Croatia: Pletikosa; Srna, Corluka, Lovren, Vrsaijko; Kovacic, Modric; Rakitic, Perisic, Olic; Jelavic.
20:00: After weeks of off-the-field controvercies involving either the organisation of this World Cup, the integrity of the sport's governing body and the manner which the tournament has been received by poverty-striken Brazil, it's with some relief that we can finally focus on football. Following an illuminating opening ceremony, Brazil and Croatia take centre-stage in Sao Paulo for the opening match. Live coverage on the way.