US Olympic swimmers removed from plane by Brazil police investigating armed robbery
The two were with fellow swimmers Ryan Lochte and James Feigen when they were allegedly robbed at gunpoint in Rio.
US Olympic swimmers Jack Conger and Gunnar Bentz, who were with teammates Ryan Lochte and James Feigen when they were allegedly robbed at gunpoint earlier this week, have been removed from their flight home by Brazilian authorities investigating the crime. US Olympic Committee (USOC) spokesman Patrick Sandusky said the committee was gathering additiona linformation.
Earlier on 17 August, a Brazilian Judge Keyla Blank issued a search and seizure warrant for Lochte and Feigen for additional questioning and to allow authorities to determine whether they filed a false police report. Filing a false police report under Brazilian law can result in six months detention or a fee. Lochte, however, had already returned to the US before officers could seize his passport.
Judge Blank said she issued her order based on inconsistencies between the testimonies of the two swimmers. In her filing, the judge said there was a gap between when the swimmers said they left France House and when they arrived at the athletes' village, according to USA Today.
The swimmers claimed they left France House around 4am and surveillance video shows them returning to the athletes' village around 6.56am. However, images from France House show the athletes left at a different time than they claimed. The trip between France House and the athletes' village takes between 30 and 40 minutes, the judge said.
The judge also took issue with how the four appeared when they arrived at the athletes' village. "They arrived with their psychological and physical integrity unshaken," she wrote.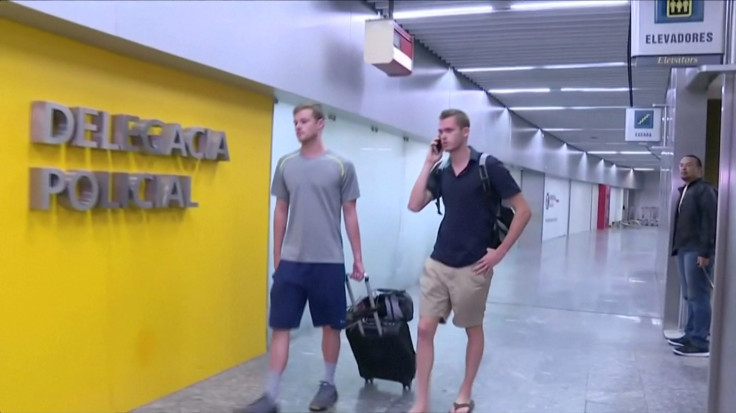 Federal police said Lochte left Brazil on Monday (15 August) on a commercial flight, two days before the judge issued the order. Sandusky said police arrived at the Olympic Village on Wednesday to take the swimmers' passports and further question them about the alleged robbery. The swimmers were not there.
"The swim team moved out of the village after their competition ended, so we were not able to make the athletes available," Sandusky said in a statement. He added the USOC would "continue to cooperate with Brazilian authorities."
Unlike Lochte, Feigen remained in Rio, he told several news outlets. "I'm just trying to give Brazil what they need or what they want and get out of here,'' Feigen told USA TODAY Sports. "It's a hassle. But I'm safe, everything's fine.''
The four swimmers told USOC officials they were in a taxi when they were "stopped by individuals posing as armed police officers who demanded the athletes' money and other personal belongings," a USOC statement said. However, investigators told The Associated Press they have not found evidence to support the swimmers' claims.
© Copyright IBTimes 2023. All rights reserved.