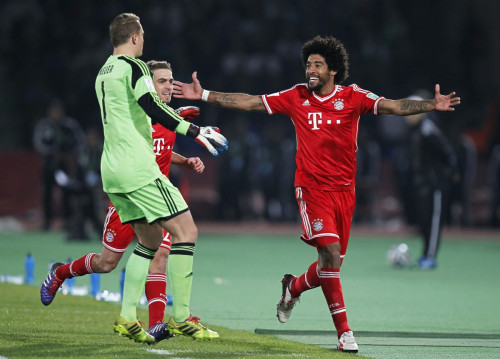 Dante's agent has clarified rumours surrounding a possible move to Manchester United, insisting that he is concentrating on prolonging his stay with Bayern Munich.
The centre-back is believed to be one of multiple targets on David Moyes' wishlist as the January deadline day edges closer with the side in need of more defensive options as Nemanja Vidic and Rio Ferdinand approach the end of their contracts.
A Champions League and Bundesliga title winner, Dante would certainly provide a boost to Moyes' current reputation for signing big names but his agent Marcus Marin insists no deal with United has been discussed at this point.
"There is no way that is going to happen," Marin said, according to Talksport. "He is not going to leave Bayern in the window.
"Manchester United followed him two years ago. We were in talks with them, but then he ended up at Bayern.
"They are a very good club - and a very big club - so it would be interesting if they were interested in Dante, although I stress we have not spoken to anyone.
"At the moment, Bayern are the only people we have spoken to anyway because we are talking over a new contract.
"We are still waiting for an answer from them and, although things happen very quickly in football, until that situation changes, we cannot speak to anyone else anyway."
Moyes is currently believed to be in the midst of confirming a deal for Chelsea's Juan Mata with the club said to be ready to splash around £40m on the playmaker.
With Champions League football currently on the line and United in seventh place in the table it would appear that the manager needs to spend big in order to get his team in the mix for trophies once more.
But with Dante looking committed to Bayern for now the Scot may have to look elsewhere for defensive reinforcements.