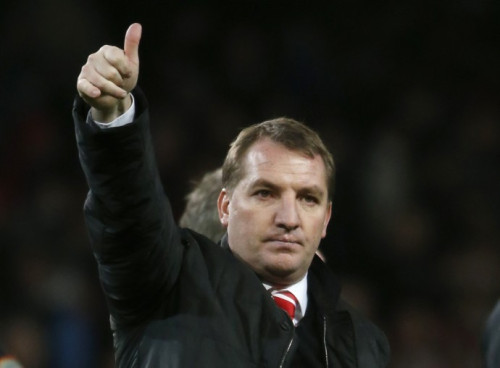 Brendan Rodgers has revealed that Liverpool are closing in on a major signing in the remaining three days of the transfer window.
The Reds got their season back on track after a remarkable 4-0 win over arch rivals Everton at Anfield, as they look to keep their hopes of finishing in the top four alive. The win will give them much needed confidence after a placid 2-2 draw against Aston Villa at home in their last game.
A brace from Daniel Sturridge followed by a goal each from Steven Gerrard and Luis Suarez sealed a comfortable win for the Reds. Rodgers is looking to build on the confidence by bringing in a few players before the end of the window after losing out to Chelsea for Basel forward Mohamed Salah.
"We are working together and hopefully we can have a major signing in before the window closes," Rodgers said.
The manager was previously reported to have aired his frustration at the owners' inability to back him in the market, but the former Swansea man rubbished speculation about the same and praised the management for their support and dedication.
The manager confirmed that Liverpool are scouring the market for possible deals and will make a swoop if an opportunity arises. The Reds have a tough round of fixtures coming up in the league, playing hosts to Arsenal next week, followed by a trip to the Emirates for the fifth round of the FA Cup.
"I've seen stuff about the manager being angry with the club but nothing could be further from the truth. I came here because of the collective effort to try and turn the club's fortunes around and the owners have been brilliant," Rodgers said.
"The people behind the scenes are working very, very hard and we are not always going to get the players we want for a number of reasons. The people here are very important to what we are trying to do. If we can get someone in before the window closes we can then set up for the remaining games this season," he concluded.