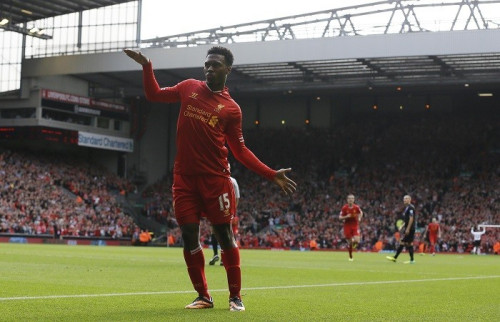 Brendan Rodgers has tipped Liverpool striker Daniel Sturridge to become one of the best players in the world after his impressive spell for the Reds this season.
The England international returned to action during the Merseyside club's 5-3 thrilling victory over Stoke City and bagged a goal on his return. With the goal against the Potters, the former Chelsea man has taken his tally to 10 goals in the league and registered three assists in 13 league games.
The former Swansea manager hailed Sturridge's performance during Liverpool's latest win over Stoke and has backed the Reds striker to be as good as Luis Suarez in order to become a world class striker in the next few years.
"Daniel has a wonderful opportunity over the next few years to become world class. He has every tool and every quality he needs to be as [good] as Luis Suerez," Liverpool manager told the Guardian.
"If he stays clear of injury and stays on the field, he can achieve that. It signified how hard he'd worked while he was out that he could come straight into the game at Stoke and make such a big impact," Rodgers said.
With a victory over Stoke in the last league fixture, Liverpool sit fourth in the table with 42 points from 21 games, trailing league leaders Arsenal by six points and third place Chelsea by four.
Rodgers wants the Anfield club to finish in top four this season, but admitted that he will not give up on the race to win Liverpool's first Premier League title.
"Manchester City, Arsenal and Chelsea are based around Champions League squads. They have been in there religiously and they have got a lot of depth that they can call upon," Rodgers explained.
"Of course, the challenge is to get to fourth. Once you can do that, it is all about seeing if you can go beyond that. But I will never give up the fight [for the title] with the games we have got to go and the confidence we have in the team.
"In terms of the message the manager transmits to the squad, I've always tried to be optimistic. We work hard on that and the consequences are the results on the field and gaining confidence," he concluded.