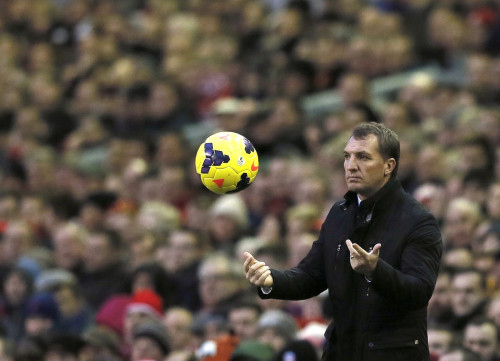 Brendan Rodgers has ruled his team out of a possible title race as the season draws to a close with the Reds currently placed eight points behind league leaders Arsenal with 14 games to go.
The Merseyside club are currently fourth in the league and will face the league leaders at Anfield on Saturday where a win for the Reds will dent Arsenal's title chances.
Rodgers is still very much in the race for a place in the Champions league but will face competition from the likes of Everton, Manchester United and Tottenham until the end of the season where they have to be very consistent or fear missing out yet again.
The former Swansea man believes that they are still some way off the likes of Manchester City and Chelsea in terms of squad depth and the lack of transfer activity in January may prove the deciding factor in realising their ambitions.
Rodgers was keen on a move for Basel winger Mohamed Salah but failed in his attempts as Chelsea made a last-minute swoop for the forward and also failed in a last-minute deal for Yevhen Konoplyanka from Dnipro after a disagreement, which could not be settled before the final hour.
"I think for us, as a team, it's too early for that. I was at the Manchester City-Chelsea game the other night and I look at the squads they have, which they have built up over the last few years. and it's very difficult for us, even though we have competed right the way through the season. So, I wouldn't say for us this year, no. We wouldn't be challengers for it," Rodgers told Sky Sports.
However, Rodgers does believe that his team will have a major say in the title race as they still have to face the likes of City and Chelsea at home and with only six points separating them and Jose Mourinho's side, they still have a lot to play for.
"Will we play a part in it? Yes, we will, because we are professional and we want to fight to finish as high as we possibly can. We look it and there are six points between us and (second-placed) Chelsea, so there is still a lot to play for and we will be fighting right until the very end," Rodgers said.
"But, if I'm asked to give an honest answer, I'd probably say that this year is too soon for us," he concluded.