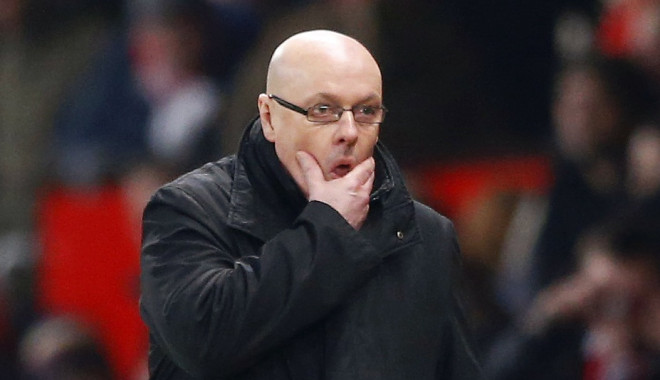 Leeds United boss Brian McDermott is delighted that Massimo Cellino's takeover at Elland Road has finally reached a resolution despite increasing uncertainty over the manager's role beyond the end of the season.
Cellino won a court appeal against being blocked by the Football League of taking majority control of the Championship club after initially failing the owners and directors test following a conviction for tax evasion.
Having been sacked by Cellino upon the Italian initially agreeing to become the new Leeds owner before being reinstated, McDermott's future is under scrutiny again after a run of seven defeats in eight games.
The news of Cellino successfully winning control of Leeds from Gulf Finance House Capital comes as the Cagliari owner sacked the 35th manager of his reign as owner of the Serie A club, after Diego Lopez was dismissed as the club slipped to seven points above the relegation zone.
McDermott said after the 1-0 defeat at Wigan Athletic: "It's a weight off my shoulders in the fact that I don't have to front up every press conference and talk about the ownership because that's all I've been doing for three months.
"I've not ducked any interview, I've been involved in every single interview and I've tried to answer the questions as best as I possibly can. It will be nice just to talk about the next game, try to get three points and see where we are as a football team. That's my job, not talking about ownerships."
Leeds' struggles during the second half of the campaign and Cellino's history with managers suggests McDermott is fighting for his job in Yorshire and during an interview which was secretly recorded before he gained control of the club, the 57 year old heavily criticised the ex-Reading boss.
"They are the worst team I ever saw in my life," Cellino said last month. "The coach is maybe a good coach but he doesn't know how to manage a club. He goes on the television and complain about the market. I tried to sack him but they don't let me.
"If he wants to work with me and if he wants to do the right thing and he believes he can run the team why should I throw money out of the window? If I think he is not good for the team I have to sack him. I work for the team. I don't like him and I don't understand him very much."