At the ninth British Academy Games Awards, downloadable games outmatched boxed releases to take home some of the biggest awards of the night.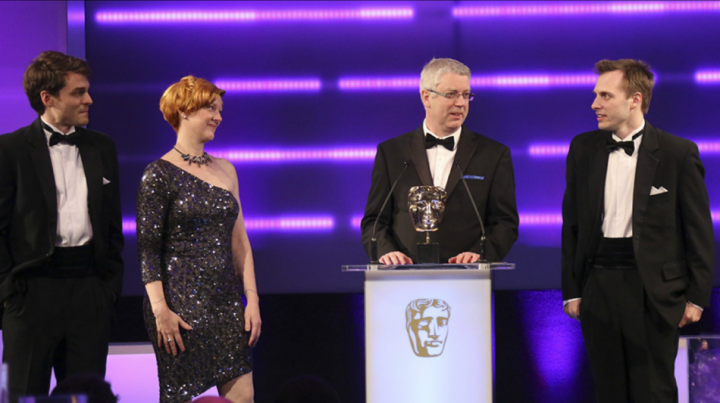 Both markets and industry heads have pretty much decided now that in the future, all games will be digital. Even ignoring the statistical nose-dive boxed game sales took in the run-up to Christmas last year, it's impossible to envision any place for physical releases over the next couple of console generations. Sony has more or less made up its mind, buying up premium streaming service Gaikai to bolster its PlayStation Store, whereas upcoming micro-computers like Nvidia's Project Shield and Valve's mythical Steambox will rely exclusively on digitally downloaded videogames.
So it's only fitting that downloadable games swept up at the British Academy Games Awards. Picturesque multiplayer experiment Journey was the night's biggest winner overall, collecting five awards including Artistic Achievement, Best Game Design and Best Original Music. Childish platformer The Unfinished Swan also did well with two awards, as did episodic zombie hit The Walking Dead, which took Best Mobile Game and the illustrious prize for Best Story.
Several other downloadable games also won out over boxed releases. Fireproof Studios' mobile hit The Room beat competition from Forza Horizon to be crowned Best British Game, whereas New Star Soccer, an Android and iOS-based football sim, conquered licensed giants FIFA 13 and F1 2012 to be crowned Best Sports Game.
AAA companies didn't go away empty-handed, though. Provocative shooter Far Cry 3 collected the award for Best Action whereas moody stealth 'em up Dishonored picked up the biggest prize of the night for Best Game.
A first-person game set in a dystopian, alternative version of maritime London, Dishonored enamoured critics in 2012 with its mix of tactile sneaking sections and bloody violence. It's a distinctive looking game that tells its story of honour culture and revenge through superb dialogue and understated visual clues. Beating off competition from Journey and The Walking Dead, Dishonored was something of a surprise winner for Best Game, proving that, despite the gaming industry's push towards digitisation, there's still plenty of creative and commercial value in boxed games.
Christophe Carrier, Dishonored's lead level designer said: "We're tremendously happy. Receiving an award and knowing players love our games - it's a double reward. We took a lot from England in the game visually; walking on the streets [of London] really reminds us of Dishonored. We're really proud the British people are rewarding us for that."
IBTimes UK spoke with several of the other big winners at the Baftas, including Simon Roberts from The Unfinished Swan developer Giant Sparrow and Robin Hunicke who co-developed Journey.
"The thing that makes me most proud is the ways that fans have responded to Journey," Hunicke said. "When you get a letter like that from someone who's felt some real deep and positive emotions when playing your game, it's like nothing else can replace that."