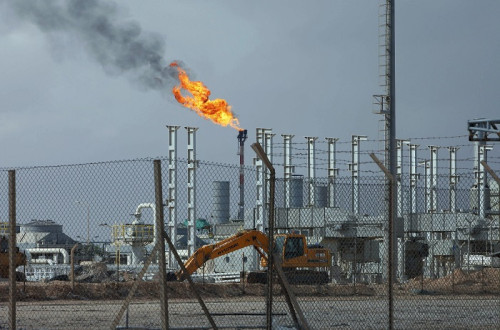 A British man shot dead in Libya in an execution-style killing has been named as oil worker Mark De Salis.
De Salis, 48, and a woman from New Zealand were found on Thursday at a secluded beach spot near the coastal area of Mellitah in the west of Libya, where the pair are believed to have been having a picnic. Both had been shot in the back of the head.
The area is the site of a large oil and gas complex co-owned by Libya's state-owned National Oil Corporation and Italian company ENI.
De Salis is believed to have been working in Libya's capital Tripoli for six years, initially for First Engineering and then as a power manager, bringing generators to Tripoli to provide electricity.
De Salis and the female victim are reported to have been employed by oil maintenance firm Blue Energy at the time of their deaths.
The UK Foreign Office issued a statement saying it was "deeply saddened" by the murder, and urged the Libyan government to carry out a thorough investigation into the incident.
A Foreign Office spokesman said: "Our Chargé d'Affaires has raised the shooting with the Libyan authorities and we are liaising closely with them on a follow-up.
"We call upon the Libyan government to carry out a thorough investigation into this tragic incident and to continue to do all it can to bring to justice the perpetrators of this appalling crime, as it strives to build strong rule of law in Libya."
De Salis's family said they were devastated at the news of his death and described the expatriate as a "decent and incredibly loyal man" who enjoyed his work in Tripoli and liked the Libyan people.
"Mark was with a close friend from New Zealand who was also killed and our thoughts are with her family at this sad time," the family said in a statement. "We would ask that our privacy is respected at this time."
The killings came on the same day as an announcement by the Libyan government that it would resume oil production at one of the country's largest oilfields, El Sharara, south of Tripoli.
Last month, a blockade on the oil and gas complex at Mellitah imposed by local Berber militia was lifted after negotiations concluded with a promise to Berbers that they would benefit from the complex's hydrocarbon exports.