UK retailers are set to rake in £45bn this year in online sales as consumers are set to spend more than £1,000 each on the internet.
According to research commissioned by RetailMeNot, the world's largest digital coupon marketplace and owner of Vouchercodes.co.uk, online sales will grow by 16% as shoppers will make, on average, 18 purchases a year.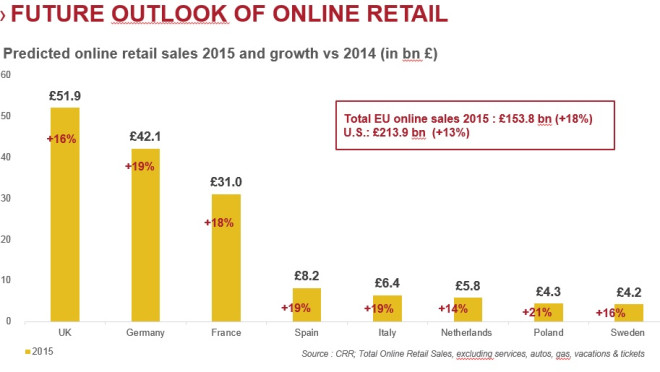 "In 2014, we are expecting to see online sales across Europe grow at a rate that is 11.9 times faster than in-store sales. In the UK, online retail is expected to increase by 15.8% this year while the offline segment will grow by only 2.4%," said Giulio Montemagno, senior vice president of International at RetailMeNot.
"With such a competitive retail environment it's more important than ever that retailers look to mobile devices and the web to incentivise shoppers to make purchases online and in-store. Successful retailers will consider the Internet not as a threat but as a powerful complement which can help them increase their sales. "
The study, conducted by the Centre for Retail Research, consists of data from 100 retailers and 9,000 consumers across nine markets.
Online Shopping Trends By Country
In the UK, Europe, and the US, found that shoppers in the UK are spending £59 on average each time they shop online and are making 18 purchases online per year, which is around every three weeks on average.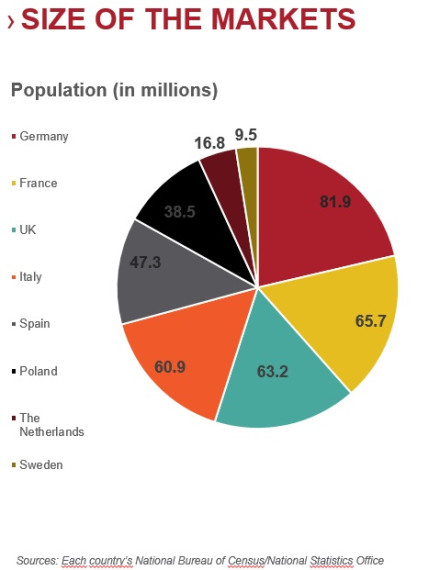 It also forecasts that online sales in the US will grow by 15% in 2014 to £189.3bn, while in Europe, sales are expected to rise by 18% to £131.2bn.
"While the e-Commerce sector is continuing to grow rapidly, we are starting to see the German, the UK and the US markets mature as shopping online becomes a commonplace activity," said Montemagno.
"Today, growth is being mainly driven by an increase in the frequency of consumers shopping online and spending more money through online channels while in previous years ecommerce growth came primarily from an ever-growing number of first time online shoppers.
The UK, France, and Germany are predicted to command the largest slice of online retail sales in 2014, accounting for 81% of the online sales in the eight European markets expected in 2014.
The UK is the largest market in Europe, with sales of £38.8bn 2013, and is expected to account for more than a third (34%) of all online retail sales in the eight European markets surveyed in 2014.