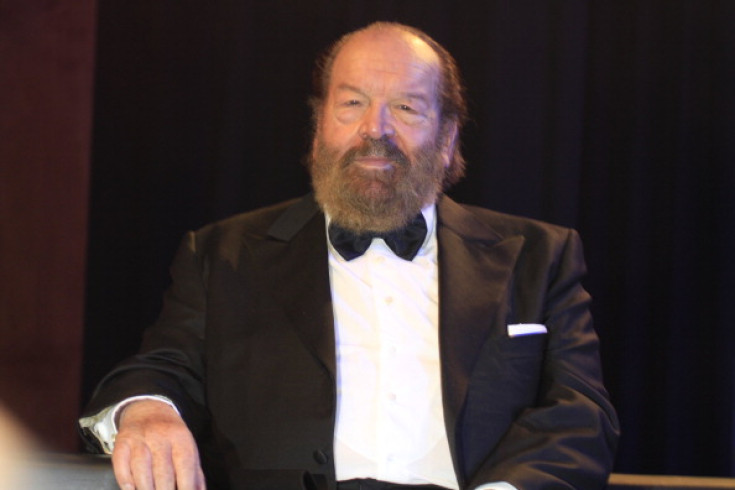 Iconic Spaghetti Western actor and Olympic swimmer Bud Spencer has died at the age of 86. Spencer, real name Carlo Pedersoli, passed away on Monday ( 27 June) evening in Rome.
His death was announced by his son Giuseppe, who said his father passed away "peacefully at 6.15pm He did not suffer, he had all of us next to him and his last words were 'Thank you'".
Pedersoli initially rose to international fame for being the first Italian to swim the 100 metres freestyle in less than one minute, during a competition in 1950.
During one of his last interviews the actor, known to fans as the "Good Giant" due to his height and weight, said: "When God calls me, I want to go and see what happens. And if nothing happens, I will get angry because He [God] made me wake up every morning for 86 years to not go, in the end, anywhere? In front of many things we do not comprehend, I cling on to Him and I hope that when He calls me, everything will be clear. Because today everything is confusing."
Swimming career and cinematic debut
Born in Santa Lucia, Naples, in 1929, Pedersoli spent his childhood between Naples and Rome. At the age of 17, he moved to South America with his family, but returned to Italy during the second half of 1940s and took part in national and European swimming championships.
After taking part in the 1952 Summer Olympics in Helsinki, Pedersoli went to Yale University and spent some time in the US until 1955, when he took part in the Mediterranean Games in Barcelona, where he won the gold medal. He also participated in the 1960 Summer Olympics in Rome.
His cinematic debut occurred when he played the role of a Roman Empire guard in the movie Quo Vadis in 1951. He subsequently played minor roles in other movies including A Hero of Our Times, where he worked together with Alberto Sordi, one of the most well-known and most talented actors in Italian cinema.
International fame
After his father-in-law – movie producer Giuseppe Amato – died in 1964, Pedersoli started producing documentaries for Italian broadcasting company Rai.
In 1967, he was offered a part in the western God Forgives... I Don't!, where he met another young Italian actor, Mario Girotti, who then became his inseparable colleague.
To promote the movie, the two actors were asked to change their Italian names in order to appeal an international audience. Pedersoli changed his name into Bud Spencer (in homage the actor Spencer Tracy and Budweiser beer, advertised in Italy as Bud), while Girotti picked the name Terence Hill.
The pair worked together in 16 movies. Notable films include They Call Me Trinity, Trinity Is Still My Name, Watch Out, We're Mad! Double Trouble, Go For It and Ace High.