OBR slashes UK 2013 growth forecast in half to 0.6%

1 percent shaved off departmental budgets
£3bn raised to be invested in infrastructure
Beer duty rise and escalator scrapped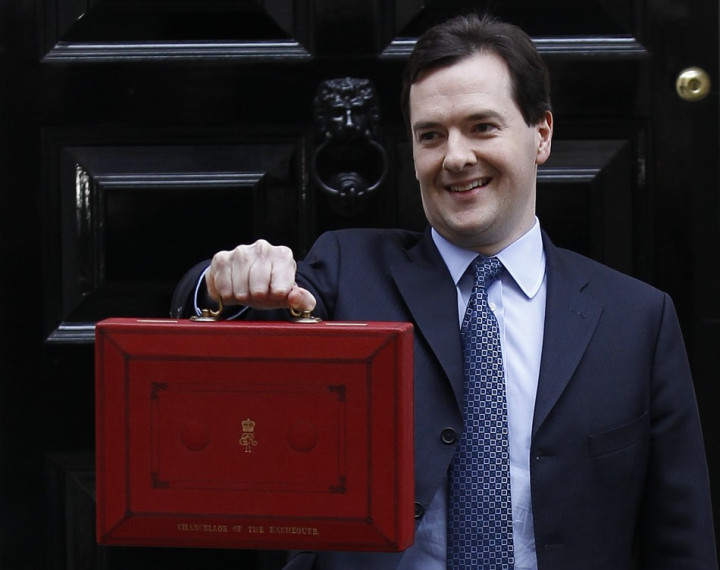 13:48 Now Miliband has sat back down after his response, which was heavier on the rhetoric than poilcy detail, and the Commons debate begins, we leave our live coverage of Osborne's speech. Thanks for joining us and keep an eye on IBTimes UK for follow-ups to today's announcements from the chancellor.
13:47 Camra, the Campaign for Real Ale, responds to the abolition of the Beer Duty Escalator:
Mike Benner, Camra chief executive said:
"This is a momentous day for Britain's beer drinkers, who will tonight be raising a glass to the chancellor for axing this damaging tax escalator and helping keep pub-going affordable for hard-pressed consumers. This decision will keep the lid on the cost of a pint down the pub.
"Since the duty escalator was introduced in 2008, 5800 pubs have been forced to call last orders for good. What could have been the final nail in the coffin for our pubs has been decisively avoided by the chancellor in a move that will spark celebration in pubs across the UK.
"Scrapping the beer duty escalator, combined with a 1p cut, is a massive vote of confidence in British pubs and will lead to an increase in pub going and more money in the chancellor's coffers.
"Today's decision is a huge triumph for Camra's pub campaigners who have been building overwhelming public support for a fair deal for beer and pubs, pub by pub and beer festival by beer festival. Over 108,000 consumers signed an e-petition and more than 8,000 consumers have written to their MP calling for a fair deal for beer and pubs. A Mass Lobby Day organised by Camra saw over 200 MPs meet with their constituents who highlighted the severe damage caused by the escalator."
13:42 Some reactions coming in to Osborne's budget...
James King, MD, Find Invest Grow (FIG) VC firm that invests in start-ups founded by students and recent graduates, said:
"Great to see the National Insurance changes announced in the budget. We believe any measure to reduce this for early stage businesses will have a huge impact.
"For start-ups the decision to hire is often influenced by National Insurance contributions: it can stop them from hiring or reduce the wages on offer. This will help make hiring decisions easier, helping to boost employment in the UK."
13:41 Ed Balls is berating, constantly, Osborne.
"Don't sneer. Stop sneering," he repeats.
13:38 Miliband lays into the cabinet, saying they are turning on each others. Lambasts the "Bullingdon boys" Cameron and Osborne.
Now he's going through how much the two will benefit from the cutting of the top-rate of tax by 5p to 45p in the pound.
"Millions paying more, so millionaires can pay less," he says.
Obviously Miliband neglects to mention the millionaires on his own benches.
13:36 Miliband explodes when Osborne says "you would borrow more".
"You ARE borrowing more," shouts the Labour leader.
13:34 The OBR has confirmed that people will be worse off in 2015 than they were in 2010, says Miliband.
13:31 Miliband asks chancellor to investigate the Evening Standard leak.
Keeps calling Osborne a "downgraded chancellor".
13:30 Ed Miliband says one thing unites chancellor's four budgets. Every time he comes to the house, things are worse.
13:27 Osborne sits down and Ed Miliband, Labour leader, will now respond.
13:24 "The cost of employing people is a burden on small firms," says Osborne.
Osborne creating the employment allowance. £2,000 taken off employers' national insurance contributions. Cutting tax for employers.
13:23 Bringing personal allowance threshold rise to £10k forward by a year to 2014.
13:19 Fuel duty - September rise scrap confirmed.
Beer duty escalator gone. 3p rise scrapped. What's more, beer duty cut by a penny.
All other duty rises as previously announced.
13:15 Help-to-Buy will offer more shared equity loans to homebuyers. Not just first timers, but to anyone who wants to move up the ladder. They will be able to access a 20% equity loan from the government. Only constraint is that the home won't be able to be worth more than £600,000. No interest for 5 years on loan.
Government mortgage guarantee offered to lenders to help stimulate mortgages - £130bn worth. From 2014.
13:11 Single-tier pension of £144 to be brought in in 2016. A year earlier.
13:08 Bank levy going up to 0.142% in 2014. Coporation tax is to be cut by 1% in 2015 to 20%.
New rules will "name and shame" tax avoiders.
13:06 Scrapping capital gains tax on shares traded in AIM market. This is a way many smaller firms raise capital. Should encourage investors and help small businesses raise money.
13:01 Tax cuts for the energy industry - fracking, in particular - to incentivise shale gas research and investment. Not a bad idea, our supply is running pretty low... Those school bunsen burners aren't going to supply themselves...
12:59 Creating single competitive pot of funding for local enterprise, as suggested by Michael Hessletine review.
Extra spending on infrastructure due in 2015-16. Will be £3bn.
12:57 EU budget deal has saved the UK £3.5bn.
12:55 Osborne pauses and splutters. Apologises, takes a sip of water. Is even he finding his budget difficult to swallow?
12:53 Existing protections to health, education, foreign aid, apply to next round of spending cuts.
Government freezing public sector pay for another year, until 2016 now. No more than 1% salary rises. Essentially a real terms cut when you take inflation into account.
12:52 Osborne confirms 0.7% of national income to be spent on foreign aid to help the world's poorest.
12:47 Onto monetary. Asset purchases get green light for another year. Funding for Lending Scheme under review for extension and alteration.
Monetary policy framework to change. 2% CPI target to stay, but now explicitly allows the MPC to take longer to get to it. More flexibility in when target will be reached.
12:46 Promises fiscally neutral budget. Tax cuts in the budget to be paid for by spending cuts not borrowing
"It's the only responsible way to reduce taxes."
12:45 Would be wrong to "chase the debt target" - to bring debt down as a portion of GDP by 2015 - which he has already missed.
Its loss was a factor in Moody's downgrading the UK's AAA status.
12:43 This year government will borrow £114bn this year, says Osborne, falling to £87bn in last year of this parliament.
12:41 OBR says 600,000 more people in work in 2013 than expected with 60,000 fewer dole claimants.
12:38 OBR predicts eurozone will be in recession for the rest of the year. Will wigh heavily on UK. 40% of exports go to the EU.
"It is the weakness in net trade that accounts for much of the weakness in GDP," says Osborne.
Confirms UK will have just 0.6% growth in 2013. Slashed from 1.2%.
Should pick up to 1.8% in year after. Reaching 2.8% in 2017.
12:36 Here comes the usual flow of rhetoric. A budget for an "aspiration nation".
Ed Balls getting told off by the speaker for his constant shouting. Tories yelling "get him out of here".
12:34 Osborne says today he is going to "level with people" about how tough things are. Recovery is taking longer than anybody hoped.
Monetary, fiscal and supply-side reform is-a-coming, says Osborne.
12:32 Osborne's up! But we already know what he's going to say, thanks to the Evening Standard.
12:21 So from the ES front page it looks like we have:
- 3p September rise in fuel duty scrapped
- 1p off beer - duty escalator scrapped
- Wine up 10, spirits up 38p, cider up 2p
- Economy will grow just 0.6% in 2013
- Borrowing £61.5bn higher than expected
- National debt to peak at 85% of GDP
- This won't fall until 2017/18 - TWO years later than planned
- Whitehall cuts £3bn deeper
- Public sector pay freeze extended
- Personal allowance to hit £10k in April 2014
- Corporation Tax cut to 20% in 2015
I think this counts as a budget leak. Someone at the Evening Standard is in trouble, I imagine. Maybe to chancellor, too...
12:18 Looks like the Evening Standard has got the bones of the Budget already. Here's their front page: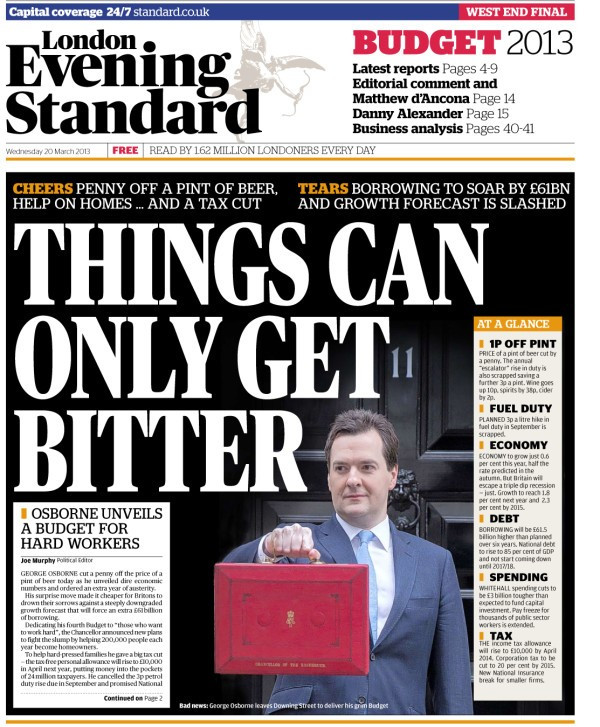 12:07 Milband and Cameron talking about Syria now and the debate over arming the rebels against Assad's regime. Miliband seems to be favouring a diplomatic solution over arming rebels, which could exacerbate the conflict, while Cameron says 70,000 are dead and something must be done soon to end the bloodshed.
12:03 Labour's Miliband asks for an update on what's happening in Cyprus after the raid on bank depositors to fund a bailout for the country's financial system. There are UK service personnel on the island, where there is a base, and many have bank accounts that will be affected. Cameron tells the house about the one million euros flown out by the RAF to Cyprus to help those Brits affected.
However, he says that the government cannot protect all British citizens affected.
12:01 Tory MP Philip Davies calls for a "blue collar budget" and tells the prime minister to stop spending billions of public money on foreign aid. Cameron refers to the personal allowance threshold which is due to go up in April.
11:59 Before the Budget we have the small matter of Prime Minister's Questions. Activite the Milibot and Camertron for what will be the usual robotic, scripted joust.
11:48 Along with today's Budget comes a report from the Office for Budget Responsibility, the independent fiscal watchdog set up after the coalition government came to power in May 2010, which will detail their latest - and likely to be slashed - growth forecasts for the UK economy.
Back in 2010, the OBR had predicted 2.8 percent growth in the UK economy during 2012. It contracted by -0.1 percent in reality after the Eurozone crisis took hold and activity slowed among major emerging economies such as China, weighing heavily on global demand and hurting UK exports in particular.
The problem for Osborne is that he uses the OBR's estimates as a guide for future fiscal decisions. If the OBR is so out of sync with what the future looks like, his decision-making off the back of guidance given will inevitably encounter problems.
Today's OBR forecasts will provide interesting context to Osborne's past decisions made on dated estimates.
11:38 Scott Corfe, senior economist at the Centre for Economics and Business Research, said:
"With earnings growth so weak, today's Budget should aim to address the rising cost of living to help support living standards - keeping prices down will help reduce the pain of pay restraint. September's planned fuel duty rise looks set to be axed later today, and there is also speculation that beer duty rises could be shelved for the next two years. New plans to kick-start housebuilding may also be introduced to make homes more affordable in the UK.
"In addition to tackling price growth, the Budget also looks set to support living standards through increasing the income tax free personal allowance - bolstering disposable incomes by implementing a rise to £10,000 as early as next year. An increase in the personal allowance from its current level of £8,105 to £10,000 amounts to a £379 per annum tax cut for the average UK worker - a sum of money not to be sniffed at when times are tight."
11:36 From the Daily Mirror, the Labour-loyal redtop: Osboshambles: 20 reasons it should be George Osborne's last Budget day as Chancellor
"As Osborne prepares to pack his big red box for today, here are 20 reasons he should pack his bag instead..."
11:24 There is an excellent chart from the Social Market Foundation think tank which tries to put as clearly as possible the different economic options being put forward by people across the political spectrum for George Osborne to follow.
"Our flow-diagram sets out the main arguments and options as we see them, and some of the main proponents of each viewpoint," wrote SMF's Iain Mulheirn.
"The map starts with what seems to be a fundamental fracture line in the debate: between those who think there's a demand problem in the economy that is amenable to some form of stimulus, and those who think the real problems are on the supply side, requiring microeconomic policy reforms."
See below (right click on the image and open in a new tab to get a larger version).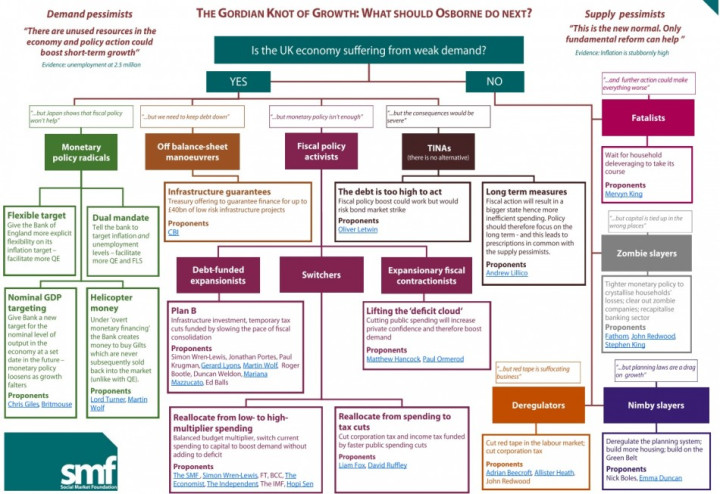 11:21 This just in from Neil Carberry, Director for Employment & Skills at the Confederation for British Indusrty:
"Unemployment has dropped over the past year but the pace of progress has stalled due to sluggish economic performance.
"This emphasises the need for the Government to deliver growth-enhancing measures on housing, infrastructure and access to finance.
"There are some hopeful signs - the private sector created over seven times as many jobs as were lost in the public sector in the last quarter of 2012 and recent growth in employment has been increasingly full-time, rather than part-time."
11:06 In other, more economic, news, the Bank of England's monetary policy committee voted down further quantitative easing by 6-3, minutes (PDF) from their recent monthly meeting reveal.
This is no shift in the voting balance from the month before, but shows that a third of policymakers are still dovish enough to put our money where their mouths are when it comes to further stimulus.
The three who voted in favour of extending asset purchases under QE - including the current governor Mervyn King - wanted an extra £25bn.
Most economists expect more QE in the coming months on top of the £375bn already carried out, with the consensus being a further £50bn.
Paul Tucker, BoE deputy governor, told the Treasury select committee recently that they are not at the end of the road when it comes to QE.
10:58 As a little aside, George Osborne joined Twitter this morning, which would be an awful idea if it was actually him on the other end of the screen.
What is more likely is that there is some intern or lowly staffer being repeatedly punched in the face (metaphorically speaking) on Osborne's behalf.
Naturally, as sure as the wind blows and sea flows, Osborne's Twitter account has been inundated with a heady blend of satire and abuse.
BuzzFeed has collated some of it - though readers of a nervous disposition/massive George Osborne fans be warned, there is lots of swearing.
10:52 Official employment data has been released ahead of the Budget speech.
It's a bit of a mixed picture. The unemployment rate is unchanged in the three months to January on the quarter before, though the number is up slightly, by 7,000. Employment is up to 71.5 percent. Both of these give Osborne a small amount of ammunition, in that he could say the labour market is robust as private sector jobs are being created.
Though, as a caveat, the ONS includes all those who work an hour or more a week in its employment figure, so this is a blunt number at best.
Osborne's critics will likely pick up on two things in the data - ever increasing youth unemployment and stagnant wage growth which amounts to a real-terms cut when you take inflation into account.
Expect Ed Balls, Labour's shadow chancellor, to pick up on these two important snippets.
10:45 Welcome to IBTimes UK's live coverage of Budget 2013.
Some details of Chancellor George Osborne's Budget 2013 have been released prior to his speech, which economists are not expecting to launch any surprise fiscal fireworks given his government's staunch commitment to austerity.
There will be £2.5bn of investment in infrastructure funded by cuts to unprotected departmental budgets, with the details to be delivered by Osborne in his speech.
The Sun reported that Osborne will scrap a planned 6p rise in beer duty after heavy lobbying from the pub industry. He will also abolish the beer duty escalator, introduced by Labour in 2008, which increase the tax by 2 percent above inflation each year.
It will cost the Treasury just £70m and have little economic impact, but will be of significant political benefit to the under-fire government.
A tax break for working couples with children to help with their childcare costs has also been unveiled ahead of Osborne's Budget, something that will cost an extra £1bn.
Families will have an extra £1,200 per child because of the new scheme.
Labour, the opposition, has called for a focus on housebuilding to help revive the UK economy. Ed Balls, shadow chancellor, said he would spend the £2.3bn raised from the 4G mobile spectrum auction on building 100,000 new homes.
The Confederation of British Industry, Britain's biggest business lobbyist, has also called for more homes to be built.
It proposes a £1.25bn of capital investment through the government's current Affordable Homes Programme to build 50,000 new residential properties and create 75,000 jobs in the ailing construction sector.
Research by the Trades Union Congress found that the poorest working households are paying out four times more because of the VAT hike to 20 percent than they receive back from the increases to the personal allowance threshold before income tax is collected.
This has led them to demand a VAT cut to help stimulate demand in the economy and ease the pressure on household finances.
Further reading:
Osborne's Budget 2013: No Fireworks as Plan A Stays but BoE Mandate May Change
Osborne's Budget 2013: Bookies Place Their Bets on Chancellor's Speech
Osborne's Budget 2013: Pity George's Impossible Task [BLOG]
---
Follow @shanecroucher