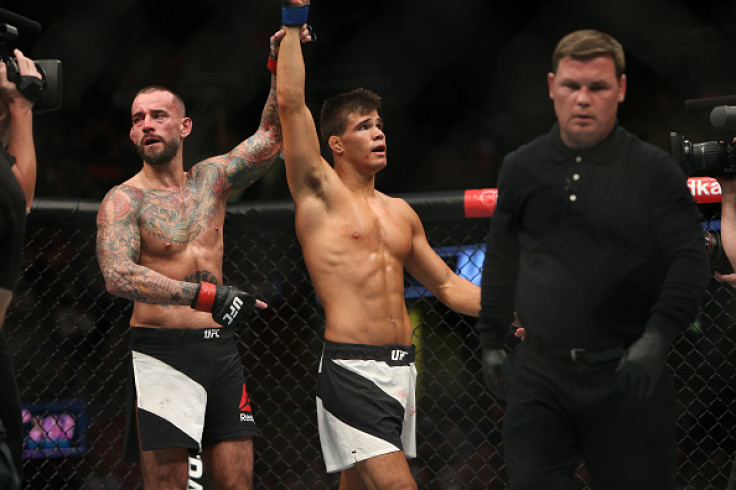 Former UFC fighter Stephan Bonnar has revealed that while he is a huge fan of CM Punk, he found the buildup to his MMA debut "boring."
Punk made his long-awaited debut at UFC 203 in Cleveland, Ohio on 10 September where he suffered a first-round submission loss to young prospect Mickey Gall.
While there has been no word of a potential return to the octagon for the former WWE champion since then, Punk remains confident of fighting in the UFC again.
Bonnar, who took part in the first ever edition of "The Ultimate Fighter," is hoping that the buildup to a second potential fight will be more exciting than his first bout with Gall.
"I am a huge CM Punk fan and you'd think he is one of the best guys all time on the mic and his promo skills are second to none yet in MMA and I'm not saying this to be disrespectful but he is just boring," Bonnar told The Two Man Power Trip of Wrestling.
"I think he can still be respectful and entertaining and cut MMA promos about tuning into his upcoming fight and what people can expect. I looked forward to seeing what CM Punk had to say about his upcoming fight and I was like good God that was boring.
"He doesn't have to be over the top or be 'pro wrestling' and turn 'heel' and be disrespectful but I was disappointed because he's got more than that. But he is new and I am sure if he did MMA ten more years he would loosen up. It was tough what he did."
Many in the combat world do not expect the Chicago native to compete in the UFC again as he was completely outclassed by Gall and only attempted one significant strike which had also missed.
Bonnar does not see who Punk could face next and have a legitimate chance of beating, citing that even Brock Lesnar, who was already a two-time NCAA All-American, had a tune-up fight before taking part in the UFC.
"Even Brock Lesnar had the sense to take a couple of tune up fights before the UFC because it is a tall task for anyone," he added. "Honestly, what would the UFC even do with him? Unless they match him up with someone like a Phil Baroni who would be the perfect fight for him."
"He got a 25-year-old guy that was 6-0 or something and that is not the best fight for him."