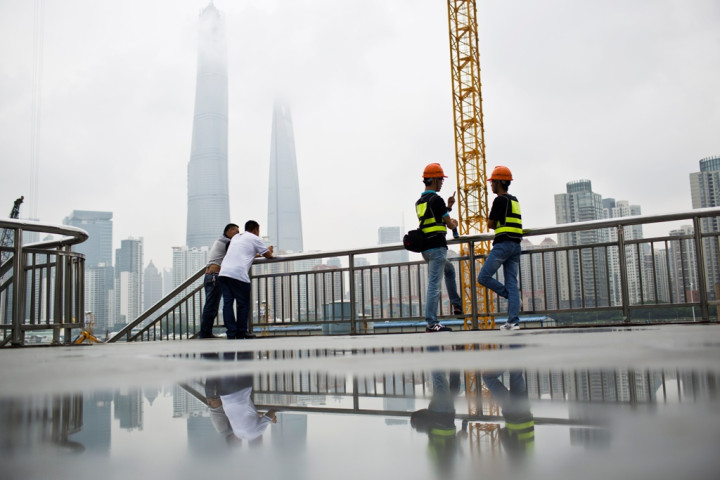 Business activity in emerging market economies expanded at its fastest pace in 15 months in June, boosted by strong growth in China and India, according to a survey.
The HSBC composite emerging markets index of manufacturing and services purchasing managers' surveys shot up to 52.3 in June from 50.6 in May.
The latest reading is well above the 50 threshold that divides expansion from contracting activity.
Services activity growth struck a 15-month high while manufacturing output also rose, HSBC said. However, the index remained below its long-run average of 53.8.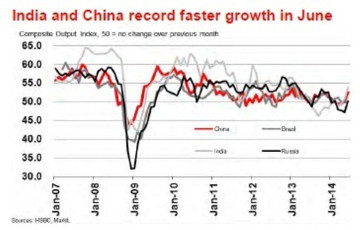 The future output index, which tracks companies' expectations for activity in 12 months' time, rose for the first time since February.
Among the BRIC economies, China logged "the sharpest increase in output for 15 months", whereas India logged the "steepest expansion since February 2013", according to HSBC.
In Russia, private sector output "stabilised", after logging its sharpest rate of decline in five years in May.
Brazil, meanwhile, registered a "further flat trend in activity", the survey noted.
Busy Week
The markets will be tracking developments in Asia through the week, with China scheduled to release trade data on 10 July, a day after it puts out CPI figures.
Bank Indonesia will announce its interest rate decision on 10 July, a day after the Indonesian presidential election.
The Bank of Korea and the Bank Negara Malaysia will also announce rate decisions on 10 July. Indian Finance Minister Arun Jaitley will present the country's much-anticipated budget the same day.
Chris Williamson, chief economist at Markit Economics, said in a statement: "Emerging markets showed new signs of life in June after stagnating in prior months, enjoying the strongest upturn in business activity since the end of the first quarter of [2013]. The improvement in the survey data is welcome news, and suggests that the emerging economies are joining in the global upturn that has been led by the developed world."
"The June data nevertheless point to only modest growth, and inflows of new business are still disappointingly weak. Momentum in the emerging markets therefore remains meagre at best, and the extent to which emerging market growth continues to lag the developed world economies remains one of the greatest that we have seen in the ten-year history of the PMI surveys.
"At present, the developed world is driving global economic growth, but the emerging markets are now at least showing signs of exerting less of a drag. If momentum can build in coming months, improvements in the emerging markets will help lift global growth higher in the second half of 2014," Williamson added.
Earlier, Barclays Capital said in a note: "...Our economists expect Bank Indonesia and the [Bank of Korea] to leave rates unchanged, but they expect Bank Negara Malaysia to raise rates 25bp, in line with widespread expectations.
"In terms of economic data, we look for [Chinese] CPI inflation of 2.5% y/y (consensus: 2.5%) and stronger growth in both exports (Barclays: 12.0% y/y; consensus: 10.5%) and imports (Barclays: 7.5% y/y; consensus: 6.0%)."
"In [Indonesia]...the election could usher in more market-friendly policies in H2, amid an ongoing adjustment to the current account balance.
"...Our economists expect India's budget to lay out the roadmap for fiscal consolidation and provide timelines for tax reforms and liberalisation," Barclays added.