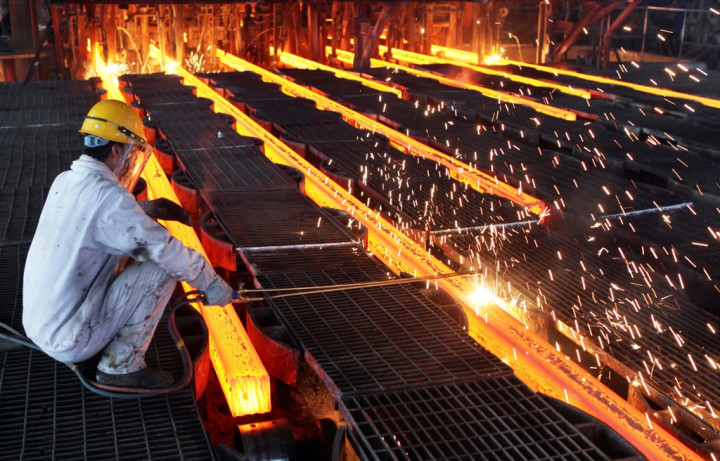 Factory output across Asia expanded in June following months of decline in its two largest economies: China and Japan, manufacturing surveys showed.
However, the new export indexes which estimate the strength of overseas demand, showed moderate growth, suggesting the region has yet to benefit from an uneven eurozone recovery and the delayed revival in the US economy, Asia's major export market.
China and Japan
China's final HSBC/Markit purchasing managers' index (PMI) rose to 50.7 in June from 49.4 in May, slightly below the preliminary reading, but logging its first expansion in six months.
China's official gauge, which is skewed more towards larger state-owned firms, hit a six-month high of 51.0.
The surveys showed Chinese export orders growing marginally.
In Japan, central bank and purchasing managers' surveys highlighted improving manufacturing activity amid lacklustre export performance.
The Bank of Japan's business optimism gauge dipped in the second-quarter, but companies expressed optimism about the future, declaring willingness to increase capital investment and output.
The Markit/JMMA PMI for June came in at 51.5, above the preliminary reading of 51.1 and topping the 50-point mark for the first time in three months.
India, Indonesia and South Korea
In India, the continent's third-largest economy, the manufacturing gauge rose to a four-month high primarily because of improved overseas demand.
The seasonally adjusted HSBC PMI rose marginally to 51.5, from 51.4 in May. Operating conditions improved for the eighth month in succession, albeit modestly.
In Indonesia, Southeast Asia's largest economy, manufacturing activity improved at a solid pace on the strength of domestic demand that offset a dip in export orders.
The HSBC PMI, which rose to 52.7 from 52.4 in May, hit its highest reading since the survey began in April 2011.
South Korea, however, bucked the trend. Manufacturing activity in Asia's fourth-largest economy suffered due to disappointing exports.
The HSBC/Markit PMI slid to a seasonally adjusted 48.4 in June from 49.5 in May, its worst in 10 months.
Meanwhile, government data showed Korean exports rose 2.5% year-on-year in June, well below a 5.1% forecast in a Reuters poll.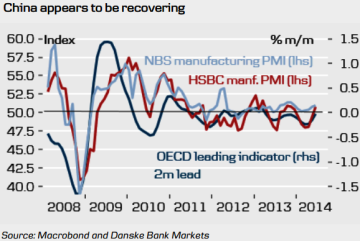 Danske Bank said in a note to clients: "Developments in China's manufacturing PMIs suggest that GDP growth has accelerated in Q2 and will continue to accelerate moderately in Q3. We expect GDP growth to accelerate from 5.7% q/q ann. in Q1 to 7.4% q/q ann. in Q2 and 8.3% q/q ann. in Q3 and hence start to ease a bit as the impact from recent easing measures starts to fade.
"The implication is that the manufacturing PMIs will probably peak around 52 in late autumn."
UniCredit Research said in a note: "We stick to our assessment that the Chinese government will continue with its strategy of targeted and fine-tuned pro-growth measures in order to stabilize China's economy, i.e. trying to engineer GDP growth to come in at the 7½% target this year.
"However, we continue to doubt that the authorities can prevent a further slowdown in 2H14 (and beyond, in yoy terms). Nevertheless, the growth trajectory could be slightly above our current forecast, which is for 7% at the end of the year."
Societe Generale Cross Asset Research said in a note: "It seems likely the Japanese government will make sure Q3 real GDP growth will return to positive growth. In this context, the ¥5.5tn fiscal stimulus package in the FY2013 budget is now being executed.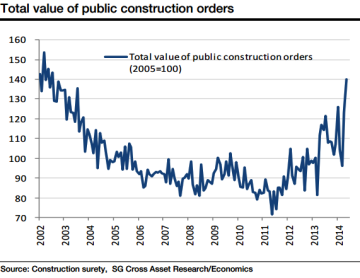 "In fact, according to the monthly survey on public orders received by the construction sector, the total value of contracts surged by 45.8% from March to end-May. This is the strongest increase since the 2000s before then-PM Koizumi slashed public investment. This may be the key reason why the SME lending attitude DI did not deteriorate in Q2."
"The total value of public construction orders is a leading indicator for the public investment component in GDP, in which both public investments in progress as well as those completed are included. This component is likely to push up the Q3 real GDP growth rate...the recovery in the US economy may provide support to Japanese exports in Q3...
"Looking ahead, Q3 GDP is most likely to return to a positive growth rate, supported mainly by public works," SocGen added.