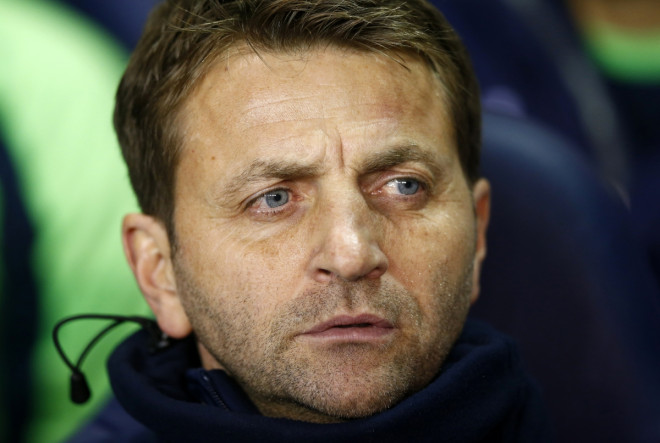 Tottenham Hotspur manager Tim Sherwood believes signing players outside the Premier League will be a risky business.
The north London club added over half a dozen of players to the squad, which mainly includes Roberto Soldado, Paulinho, Etienne Capoue, Nacer Chadli and Erik Lamlea. These players have struggled at White Hart Lane, with fitness and form hindering their progress this season.
Everton signed Premier League players on loan like Romelu Lukaku and Gareth Barry, while adding Gerard Deulofeu to the squad for a season. The Merseyside club are fifth in the table with 63 points from 32 games, trailing fourth place Arsenal by a point with a game in hand. Spurs are sixth with 59 points from 33 games.
Sherwood hailed the business done by the Toffees after Roberto Martinez took over the club last summer and has hinted that Spurs should sighn players from the Premier League.
"I am a firm believer that Premier League experience is key. Yes, you can buy someone who has never played in the Premier League and he comes over and he is a revelation but it's more of a risk doing that," Sherwood told Sky Sports.
"If you want to look at any team you've got to look at Everton and what they've done in the transfer market - it is second to none. On Deadline Day they looked like an average side - all of a sudden they make three signings and it turns them into what they are now."
"That's the business that is done. It was very cute from [Roberto] Martinez and whoever was involved in bringing them in because whoever brought them in, certainly they were Martinez's players he wanted."
"You've got Gareth Barry with 534 games or whatever it is in the Premier League - crucial for any club. Lukaku was the best young player last season. He had that loan spell at Everton where he did brilliantly and he has it onto this year."
"And then there's Gerard Deulofeu who everyone knows is in development phase of football. He can be anything he possibly wants to be and he is showing that now, and the acquisition of McCarthy, they have certainly done brilliantly in the transfer market," Spurs manager concluded.