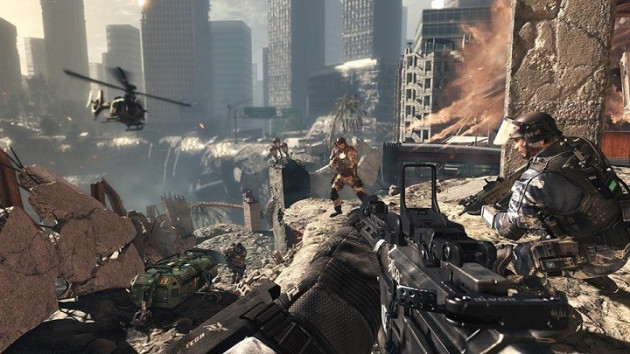 Here's a reason to rejoice for current PlayStation 3 and Xbox 360 owners: Activision announced on 4th November that Call of Duty: Ghosts, the upcoming title in the company's hugely popular game franchise, would be available for Xbox 360 and PlayStation 3, in addition to the next-generation consoles from Microsoft and Sony.
According to the developers, an upgrade program will be made available for future owners of the Xbox One and PlayStation 4. The users can simply buy a copy for their current system, and then trade it in for £6.26 when they pick up a new console. Gamers who buy a season pass for Call of Duty: Ghosts will receive a free upgrade to a PS4 or Xbox One version of the game. Additionally, the COD: Ghosts season pass includes a 12-month subscription along with 4 DLC map packs and extra multiplayer character customisations.
Amazon guarantees a £15.66 trade-in value on current-gen versions of COD: Ghosts and will also offer gamers a £15.66 coupon code. Retailers like EB Games in Canada and the Microsoft Store will also offer similar sales.
According to Activision, the upcoming COD offering is set to be the biggest in the franchise's hugely successful history. The company has stated: "Call of Duty: Ghosts ushers in the next generation of the franchise, delivering a riveting all-new gameplay experience built on an entirely new story, setting and cast, all powered by a new next-generation Call of Duty engine."
Activision seems to be going all out to promote its upcoming first-person shooter video game, Call of Duty: Ghosts. The new live-action trailer of the game is directed by The Wolverine's James Mangold and features Megan Fox. It shows four players shooting their way through various real-world scenarios of the upcoming game. The friends find themselves in an apocalyptic Las Vegas, on a car chase through a snowy landscape and in space as astronauts.