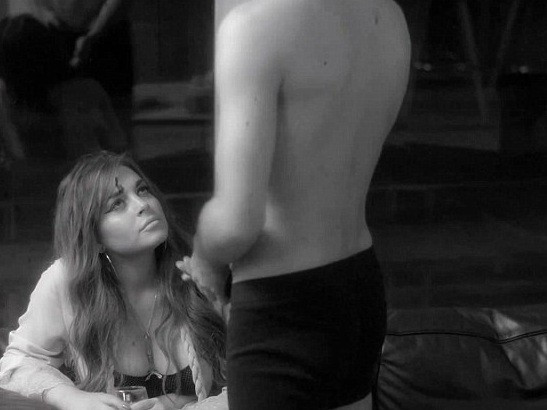 Lindsay Lohan was reportedly paid only $100 (£62) a day for her lead role in new film, The Canyons, it has been claimed.
Despite popular opinion, the embattled actress did not receive a hefty pay packet even though she had to film a graphic four-way sex scene with three porn stars, the New York Times reports.
According to writer Stephen Rodrick, who claims to have had unprecedented access to director Paul Schrader, Lohan's contract stipulated that she would get just "$100 a day and an equal share of the profits, but no vote in decision-making". It also stated that the sex scenes were "non-negotiable".
The low-budget film, which cost $250,000 to make, is about the dangers of sexual obsession. It follows a group of people whose lives are changed after a chance meeting. Lohan plays the female lead Tara in this contemporary LA noir.
Although she agreed to do the racy scene cash-strapepd Lohan allegedly had a huge meltdown minutes before filming was scheduled to start. Her tantrum is believed to have driven Schrader, porn star James Deen and two other actors to strip down to their birthday suits to put her at ease.
"Lohan dropped her robe. Schrader shouted action, and they filmed the scene in one 14-minute take. About halfway through, Lohan looked directly into the camera and flashed a dirty, demented smile at Schrader," Rodrick says.
Rodrick also claimed that the Mean Girls star, who appeared at a New York City court earlier this week over an alleged assault in a nightclub, was a nightmare to work with.
He said that even before filming got off the ground, she had been fired and rehired.
On one occasion Lohan, who has several drink driving charges behind her belt, got into a car whise under the influence after a day of filming, he claimed.
"She and Gavin had been drinking, which was understandable for a young woman shooting a sex scene with three porn stars," Rodrick writes.
"Quietly, Pope told Lohan that he could get her a driver to take her home. But she refused, jumped into her Porsche and headed down the dark, narrow road toward the PCH.
"They all hoped they would still have a lead actress in the morning."
Watch the official trailer here: