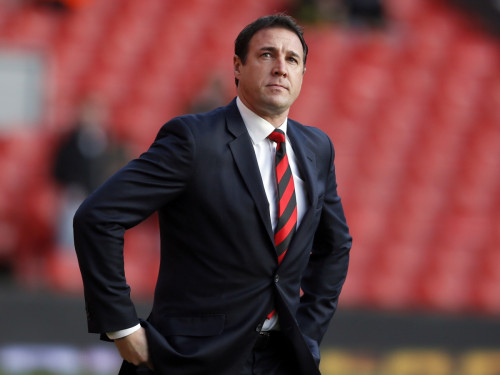 Cardiff City manager Malky Mackay has escaped the sack from owner Vincent Tan but faces showdown talks with the Malaysian owner in order to save his job at the south Wales club.
Mackay was expected to be sacked following the 3-1 defeat to Premier League leaders Liverpool after ignoring an email from Tan which requested he resign from his position after exceeding budgets in the summer transfer window and claiming just four league wins this season.
However, Tan has been convinced by chairman Mehmet Dalman to enter into talks with Mackay about the future running of the club with the hope the pair can settle their differences.
The defeat at Anfield saw supporters vehemently back Mackay following a week which had drawn serious questions over his future and called for Tan, who purchased Cardiff in 2010, to sell up after a series of unpopular decisions as owner including changing the club colour to red and the departure of head of recruitment Iain Moody.
In a statement published on the Cardiff website, Dalman has called on the clubs' support to unite behind both Mackay and Tan ahead of vital talks which could significantly dictate the Bluesbirds' top flight future.
"If we wish to work towards a reconciliation, Vincent Tan has offered us that opportunity to move towards that," Dalman said. "If it works, it works. If it doesn't, it doesn't. But at least I as a responsible person and Chairman of this football club have tried my best.
"We need to have further dialogue to see if we can get through this together for the good of the club, which is the most important thing.
"In order to do that, it's best we have an attempt at dialogue. Vincent Tan is in London for a while, so at least he is physically here which makes it easier to have that face to face dialogue.
"If we want to give the club the best chance of being in the Premier League next season, the best way is to fix the problem and seek stability.
"As things stand Malky is in charge for the foreseeable future and will be until something else happens. I don't want to go game by game on this, with people asking if he will be in charge.
"If I had one wish for Boxing Day, it's that they don't hold up 'Tan Out' or 'Malky In' banners, but rather one that says 'Talk to each other'. The crisis for the time being is over. The emphasis as of today is for us to create space and dialogue."
With Mackay having been expected to leave the club, Cardiff chiefs were understood to be lining up former England manager Sven Goran Eriksson to take over.
Ole Gunnar Solkjaer, Yilmaz Vural and Craig Bellamy have also been linked with the role but Dalman is adamant no talks over a replacement have taken place.
"I can tell you categorically that I, as chairman, have not initiated any dialogue with anybody else," he added. "Can we go out and get another manager? Of course we can. But I've read and heard so much nonsense about us speaking to four different candidates and that sort of thing. It's simply not true.
"What I do have is Vincent's word that if we don't succeed with our dialogue with Malky, I and the board will be handed the responsibility of going out and getting the manager we think is best to take the club forward."