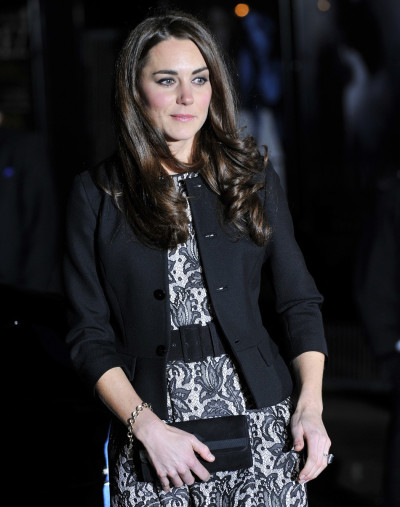 The Duke and Duchess of Cambridge were visibly excited as they carried out their first joint public engagement with Prince Charles and Camilla at the Royal Albert Hall
Prince William and Katherine Middleton joined the Prince of Wales and the Duchess of Cornwall at a charity concert performed by X Factor judge and former Take That singer Gary Barlow.
The concert, organised to raise funds for Prince Charles's charity, the Prince's Trust, and the Foundation of Prince William and Prince Harry, was also attended by thousands of cheering fans.
The glittering event saw the royal fashionista, Katherine, in a black and cream tulip patterned mini dress by Zara, teamed with a black Ralph Lauren jacket. The 29-year-old ditched her famous nude shoes and opted for a pair of high heels. Even Camilla sparkled in an olive dress and jacket by her favourite designer, Anna Valentine, while the royal men were smartly dressed in blue lounge suits.
Before the concert began, Barlow chatted with the guests of honour and told them: "I hope you enjoy tonight and I hope it's not too loud," the BBC reported. Prince William responded jokingly: "The louder the better, the louder the better."
The father-of-three opened the concert with great applause to the song The Greatest Day Of Our Lives. He drew even more cheers when he welcomed the royal couples, who took their seats in the royal box. He greeted them with the salutation: "Good evening to our beautiful Royal Family," adding: "All the money goes to a fantastic cause, so we're killing two birds with one stone." The prince acknowledged the public reception by smiling and waving a programme in the air.
In his first solo concert since 1999, Barlow sang A Million Love Songs, Pray and Nobody Else, among other hits to raise more than £400,000 for the Prince's Trust over two consecutive nights at the venue.
The Duchess of Cambridge turned out to be a Take That fan, as she was seen singing along to Back for Good and an encore of Never Forget, joined by clapping from Prince William and Camilla to the music during the concert. Prince Charles also appeared to be enjoying the evening, as he was spotted tapping his hand on the armrest of his chair.
The 40-year-old X Factor judge was joined by Strictly Come Dancing contestant Jason Donovan, as well as Olly Murs, Lulu and X Factor's Marcus Collins.
After the performance, the performers and charity supporters mingled and chatted with the royal couples.
An excited Barlow said after the show: "It's been great. Both nights were amazing. People have been buying lots of merchandise, which all goes to a good cause."