Dell has announced that its low-cost Inspiron range of laptops will make the move to Windows 8 and optional touchcreens.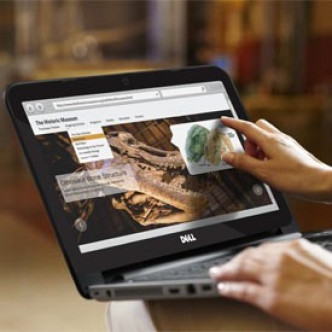 Follow all the latest news live from Las Vegas right here on our CES 2013: Live Blog
Unveiled at the CES trade show in Las Vegas, the 14, 15 and 17in models will be redesigned from the ground up to include a thinner body and ten-point touch displays; they will each be just an inch thick and weigh less than 2.28kg.
The cheapest models will still use Intel Celeron processors, but more advanced versions of the updated range will be powered by i3, i5 or i7 Intel Core processors, and will get up to 8GB of RAM.
As for graphics, the option to upgrade to a 2GB Nvidia GeForce GT640M or a 2GB AMD Radeon HD 8730M graphics card will be available.
Dell said that the new 14 and 15in Inspiron notebooks will have a screen resolution of 1366 x 768, while the 17in model will get a screen of 1600 x 900 pixels.
Each model also gets a HD webcam capable of recording video at 720p, and WiDi, which lets you stream HD video content wirelessly from laptop to television.
Elsewhere in Dell's range, the XPS 13 is getting a full 1080p HD display, and the Inspiron R range is getting a similar update to the basic Inspirons.
Dell is yet to reveal when the upgrades will roll out, and how much they will cost, but we are still glad to see manufacturers adding Windows 8-friendly touch screens to their cheaper models - and this will no doubt please Microsoft, too.