Samsung has announced a major new update to its Smart Hub users interface for its Smart televisions at the CES trade show in Las Vegas.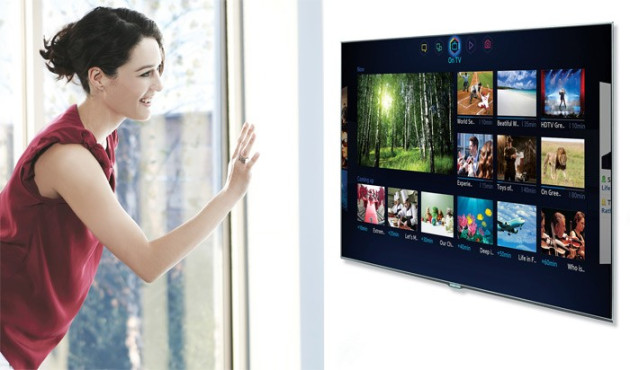 The Smart Hub now includes five panels, for live television, films and TV programmes, photos and video, social, and apps - and it doesn't look a million miles away from the Xbox 360's interface.
Wading through page after page of TV listings to find something you want is annoying - and Samsung knows this - so the Smart Hub now offers up content based on what you have previously watched and liked.
For example, if you often watch the news before going to work, the Smart Hub will put news channels front-and-centre when you turn the TV on on a weekday morning. But, if your children watch cartoons on a Saturday morning, then that's what will be offered up first at the weekend.
To help search out new content, Samsung announced S-Recommendations, a search engine that takes spoken commands from the user to find content. Working in a similar way to S-Voice on Samsung's smartphones and tablets, S-Recommendations can understand natural languages to help find what you're looking for, and it can also be used to look up the weather and conduct web searches.
As well as live TV, the Smart Hub pulls in content from any on-demand service you are a member of, such as Netflix, and of course there is an element of social networking too, so Twitter is present, along with Facebook and YouTube.
There's a lot to learn with Smart Hub, so Samsung's TVs help to guide you through the features when they are first turned on, and on the 7500 series of greater, the TVs know who is watching - thanks to the integrated webcam - and will offer up the correct user account and content for that person.
Samsung has been making major updates to its Smart TV software for the last few years now, and it knows that consumers can't afford to buy a new television every year, so as a compromise the company has introduced the Smart Evolution Kit, which is a device that users buy and attach to the back of a compatible 2012 television.
Doing so will give them the extra power of a 2013 TV (up from dual-core to quad-core processing) and the new Smart Hub with all of the new features mentioned above. It's a neat solution and one that suggests Samsung is keen to make large updates on a regular basis.
According to The Verge, a Samsung spokesperson said the upgrade kit would cost between $200 and $200, but there is no word yet on when they will be available to buy.