Archos has debuted its new dedicated gaming tablet, the GamePad, at CES 2013.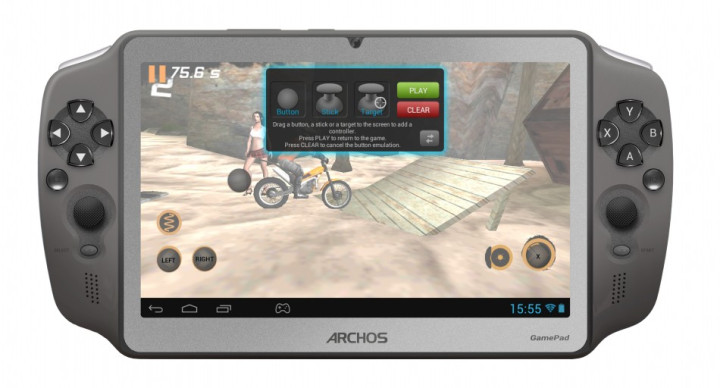 Follow all the latest news live from Las Vegas right here on our CES 2013: Live Blog
With a 7-inch 1024x700 screen, the GamePad runs Android 4.1 Jelly Bean and includes a modest dual-core Cortex A9 chip with 1GB of RAM. As such, it's a lower end device than Razer's Edge, with a confirmed price tag of $169. It's also likely to be cheaper than Nvidia's Project Shield, which uses the company's latest Tegra 4 chip.
But despite the lower specs, the GamePad has an interesting gimmick in that it allows players to map the physical buttons to the touch screen in any configuration they want, meaning you can order virtual sticks and buttons into positions that are comfortable for you. iPhone games like the Wolfenstein 3D and DOOM ports have a similar feature, whereby you can adjust the position of the on-screen virtual controls. However, the GamePad is the first device to allow that customisation with an amount of inputs generally found on conventional controllers.
However, after a lengthy hands-on preview, The Verge has said that the GamePad's buttons "failed to map correctly" and that the device had "several crashes" when trying to run zombie shooter Dead Trigger.
The Verge also remarked that the GamePad felt "bulkier and cheap" compared to the other gaming tablets at CES, explaining how it resembles an oversized Sony PSP.
Since it runs on Android's Jelly Bean, the GamePad also has conventional tablet functionality as well as gaming capabilities and can be used to browse Gmail and Google Chrome. It also has a media centre which can stream music from PCs and laptops using uPnP and a micro-HDMI port that allows you to play saved videos on your HD television.
Pre-orders for the GamePad are available from Archos' official website now.