Panasonic has revealed the rugged Toughpad FZ-G1 tablet at CES 2013, with Windows 8 running on a an Intel Core i5 processor.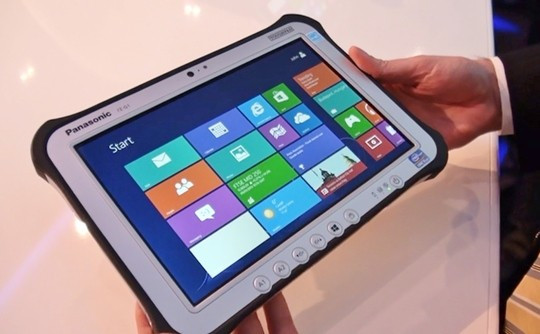 Follow all the latest news live from Las Vegas right here on our CES 2013: Live Blog
The Toughpad FZ-G1, which Panasonic calls the world's thinnest and lightest rugged tablet, is designed for outdoor usage and travel, replacing the conventionally thin look of tablet devices with a reinforced frame that is shockproof against falls from 120cm.
The FZ-G1 is also waterproof and resistant to dust, dirt and temperatures between -20 and 60 degrees centigrade. It weighs 1.1 kg and has a 10.1in IPS capacitive multi-touch display. It's powered by an Intel third generation Core i5 processor and comes with either 4GB or 8GB of RAM. The storage space is also optional, with 128 GB and 256 GB models available.
At a press conference held in Munich alongside the FZ-G1's official unveiling at CES in Vegas, Panasonic's managing director of product solutions, Hiroaki Sakamoto, told The Inquirer that the company's mission is "to improve the working lives of everyone through engineering.
"Being our first family of tablets designed for businesses," Sakamoto continued "we've developed these high quality products [that function] under tough environments for Windows 8 due to its increase in popularity."
Other specs for the Toughpad include dual-band Wi-Fi, Bluetooth 4.0, front and rear racing cameras that are both three megapixels, and a smart card reader. It also has USB 3.0 and HDMI ports.
In terms of battery, the Toughpad lasts around eight hours, though an optional, extended power pack lengthens the battery life to a massive 17 hours. It comes in either 3G or 4G enabled versions for mobile broadband access.
Available at the end of February, the Toughpad is yet to have a confirmed price.
As well as the Toughpad, Panasonic has also used CES 2013 to launch a new range of Smart Viera TVs which include a new home shopping service operated via your remote control. The company also launched a new range of Lumix cameras and a new wearable camera.