Panasonic's relatively brief press conference at CES 2013 was nevertheless heavy with new announcements, including My Home Screen, a new and intuitive way to browse for content, and Swipe & Share, a feature to beam content from smartphone to television.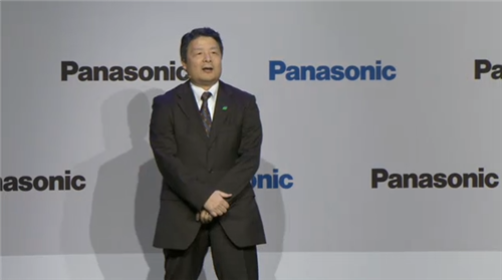 Follow all the latest news live from Las Vegas right here on our CES 2013: Live Blog
First on stage was President of Panasonic Consumer Marketing of North America Shiro Katijima, who explained that personalisation and ease of access to custom, interactive content was key to Panasonic's business plan in 2013. In keeping with that, he introduced Vice President of Marketing Vic Carlson, who demonstrated Panasonic's new My Home Screen feature for its Smart Viera TVs.
Similar to a smartphone interface or the Xbox 360's dashboard, My Home Screen can be customised to foreground your preferred apps, channels and other content for ease of access. Carlson explained that each family member would be able to create their own Home Screen on a single television and that the Viera would use facial recognition to automatically boot up the correct one.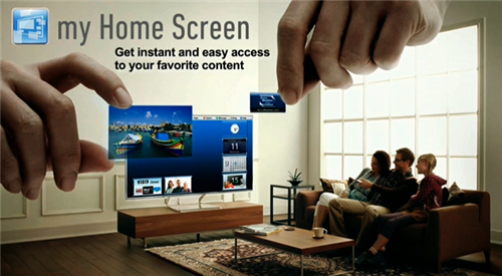 Panasonic is launching 32 new models of plasma, LCD and Smart Viera televisions in 2013 and each new Smart Viera version will feature My Home Screen, as well as voice recognition via the remote control to easily navigate content.
Swipe and Share
Also to be updated is Panasonic's Swipe and Share technology that allows pictures and videos to be uploaded to a Smart Viera television from mobile devices. With the upcoming Viera models, users will be able to edit their photographs using a stylus-like Touch Pen, which interacts with the television's screen. It can be used to access a variety of digital editing functions such as different ink colours and cropping options. Edited photographs can then be sent back to a mobile device and saved there.
Though it did not reveal any details, Panasonic said it was working with a range of developers to create new software based on the Swipe and Share feature.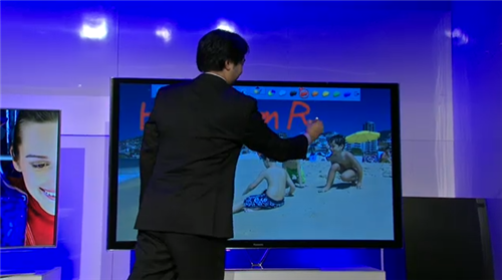 Next, Panasonic demonstrated the new Smart Viera's increased YouTube functionality, unveiling a smartphone app called "YouTube Send To TV" which, in Panasonic's words, turns your smartphone into a "remote control for YouTube." It allows you to queue up and control videos from YouTube with your smartphone seamlessly, which are shown on the Viera's screen.
Shopping
The most significant announcement came from Panasonic's partnership with the Home Shopping Network to launch My Shopping Remote, a web based shopping service available via Panasonic Smart TVs. Similar to typical internet shopping, it allows consumers to browse products and review using their remote control and order items from the Home Shopping Network through their televisions.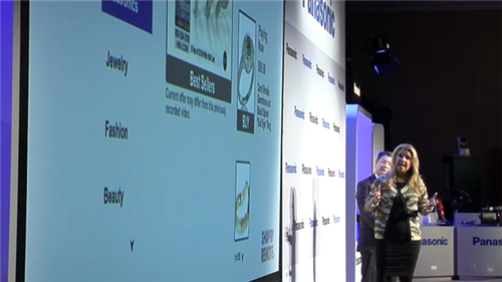 There was also the unveiling on Panasonic's improved bone conduction headphones, which are tweaked to benefit hard of hearing users, by directly stimulating the small bones inside the inner ear. The concept is that volume can be raised and raised without being audible to other people. The bone conduction headphones will not launch until autumn 2013.
Also revealed were the SC-NP10 wireless speaker which wirelessly pair with tablets to offer better sound quality and the MST60 and MS10 streaming boxes which use Miracast to wirelessly share content between devices. An alternative to Apple's AirPlay technology, Miracast can be used to beam content from a television cable box onto a tablet or smartphone, or to send the image from a mobile device's screen to a digital projector. According to The Verge, Panasonic is expected to announce a further four devices at CES this year that include Miracast support.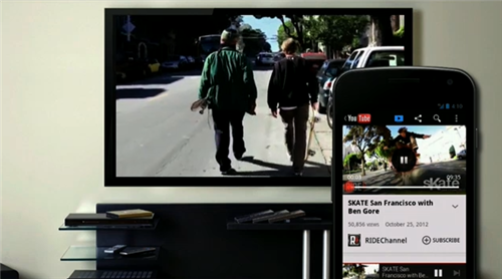 Lastly were Panasonic's BDT330 and BDT230 3D Blu-Ray players which will also go on sale this year. Though no prices or exact release dates were revealed, both of these players will feature display mirroring technology that allows mobile devices to be displayed on a television screen.
Panasonic Global President Kazuhiro Tsuga will be giving the keynote speech at CES on 8 January and the company's booth will also include a discussion on technology and entertainment featuring Danny DeVito.